Chocolate Labrador's hilarious response to new puppy will melt your heart
3 million people have enjoyed Poppy's reaction to a new addition to the household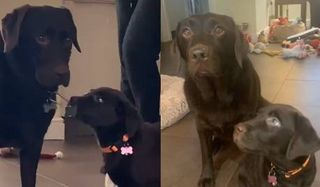 (Image credit: TikTok / @meganduffy14)
No one likes to feel they are being replaced, and dogs are no different. A sweet TikTok video showing 'only child' Poppy realising that she is now meant to fight for her owner's affection after a new addition has been brought into the house is capturing a lot of attention on TikTok – to the tune of over 3 million views!
In a quick montage, owner @meganduffy14 tells the story of Poppy the chocolate Labrador meeting her new puppy sibling Ivy. Though short, it's a classic tale of the shock of discovering a potential usurper to your throne.
When Ivy is introduced in the first shot, the sweet older Labrador stands perfectly still as if in shock. While she seems to analyse the situation with a 'how could you do this to me' look on her face, the new puppy does her best to attract Poppy's attention. She bites at Poppy's dog tags excitedly while Poppy ignores her and remains stock still.
In the next shot Poppy returns the biting with a little roughhousing of her own. Although she hasn't totally accepted the puppy, she is at least engaging with her. However, Poppy isn't totally there yet; in the next shot, while Ivy looks up at her older sister with love, Poppy still has a mournful look in her eye.
The last shot shows Ivy resting on Poppy's back under the careful view of their owner. It seems likely that the two will come to love each other over time, and Poppy will grow to accept her new playmate. In the meantime, capturing that first incredibly cute encounter on camera has made a lot of people very happy!
It's a situation that caused a lot of recognition with dog owners, with many of the 800 comments tagging friends with dogs in a similar circumstances. Other viewers were just blown away by the very different reactions of the two dogs.
DomsterDiver commented "Poppy: :( they've replaced me"
Patricia Eris summed up the situation in two words: "That look."
Meanwhile, yeaitssarah sympathized, but knew it would work out well in the end "That's exactly how our labs were when we brought home a puppy and the puppy literally couldn't handle how happy the older dogs made her."
Get the best advice, tips and top tech for your beloved Pets
Jamie Middleton is a freelance editor and writer who has been editing and creating content for magazines and websites for over 20 years. As well as writing about the pets he loves, he has helped create websites about tech and innovation like TechRadar.com, Innovate UK and TechSPARK, written programmes for music festivals, books on inventions and architecture, TV listings magazines, and edited publications about cars such as Lexus, Toyota and Jaguar. In his spare time he writes fiction books and poetry - or at least he does when he is permitted to by his cat Pirate, who enjoys the warmth of laptops too much to allow being creative to get in the way.