40 funny finalists for the Comedy Pet Photography Awards 2021 announced
Animal Friends brings their top choices of pics of pets doing the sort of silly things that's guaranteed to bring a smile to your face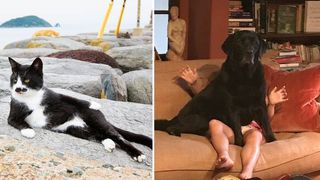 (Image credit: Comedy Pet Photography Awards)
Want to chuckle over pets doing stupid and cute things? Of course, you do! Who doesn't? Fortunately, the Animal Friends Comedy Pet Photography Awards 2021 is here to help you in that quest. Every year they comb the globe for pictures of animals doing quirky, crazy and daft things – and as any pet owner knows, our furry friends rarely disappoint. It's just if you manage to catch it on camera!
And people have. There were over 2,000 entrants from all over the world to choose from, so the competition was stiff. Now the judges have produced a shortlist of 40 silly snaps and 3 videos guaranteed to raise a smile.
They include a very naughty, nosy hen from Ireland, an elongated cow from Fidenza in Italy, a dog called Lucy having fun driving a boat on a lake in Idaho, USA and several epic photo-bombing pets, including a cat called Jeff annoying his little brother Jaffa from Wales.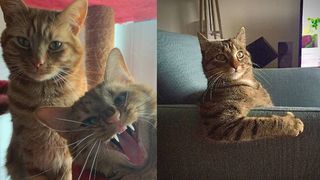 Tom Sullam, the Co-founder of the Comedy Pet Photo Awards says: "It has been a very odd 24 months for most of us, but one heart-warming life-affirming and consistent presence has kept many of us relatively sane and definitely happier than we might have been: our pet (or pets!).
"This year's competition, hugely supported by the brilliant team at Animal Friends, has been a revelation to us and to all the pet lovers in the world."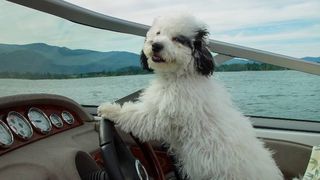 The competition was created by Tom and Paul Joynson-Hicks to celebrate the positive and vital role that pets can have in our lives and to encourage and raise awareness about animal welfare. Each year the competition always supports a different animal rights charity.
This year it has raised £10,000 for Animal Support Angels a very special animal welfare charity that supports pets and pet owners by providing food, shelter, warmth, veterinary support, re-homing and animal welfare care to relieve the suffering of animals.
Wes Pearson, CEO of Animal Friends said: "Knowing that this immensely fun competition will also make a serious difference for families with pets in need and animal welfare organisations across the UK through Animal Support Angels makes us immensely proud."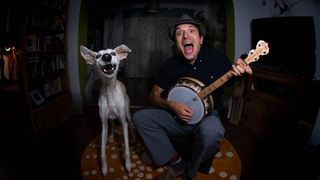 "Anyone who has ever owned or shared a home with a pet knows how remarkably lucky we are to have these incredible, quirky, crazy and loving animals in our lives. This competition brings so much joy to so many animal lovers around the world and shows just how deeply they can touch our hearts - and this year's finalists have not disappointed"
The winner will be announced in November. And if you missed entering this year's contest and have a hilarious photo you think could beat this year's finalists, don't worry the 2022 Comedy Pet Photography Awards will open for entries in April. Bring on the laughs!
Get the best advice, tips and top tech for your beloved Pets
Jamie Middleton is a freelance editor and writer who has been editing and creating content for magazines and websites for over 20 years. As well as writing about the pets he loves, he has helped create websites about tech and innovation like TechRadar.com, Innovate UK and TechSPARK, written programmes for music festivals, books on inventions and architecture, TV listings magazines, and edited publications about cars such as Lexus, Toyota and Jaguar. In his spare time he writes fiction books and poetry - or at least he does when he is permitted to by his cat Pirate, who enjoys the warmth of laptops too much to allow being creative to get in the way.