Dallas becomes latest city to ban sale of cats and dogs in pet stores
The U.S city has joined a further 400 nationwide that is clamping down on the commercial sale of pets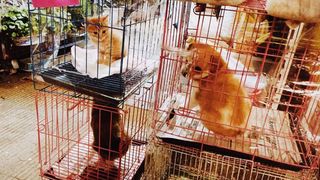 (Image credit: Getty Images)
New cat and dog owners are often urged to 'adopt not shop' when it comes to finding a new pet. Now, Dallas has joined nine other Texan other cities and more than 400 nationwide who are actually banning the sale of commercially bred pets.
New pet parents will be encouraged to visit shelters or small scale, responsible breeders in attempt to help stamp out 'puppy mills'.
These 'animal farms' are high volume commercial breeding facilities where animals are raised in often cramped and dangerous conditions.
Dogs from these facilities are prone to health problems and may not have received adequate nutrition or essential vaccinations. It's estimated that around 500,000 breeding dogs are used in these factory farms across the country, and in the last three years alone thousands of the resulting puppies were imported into Dallas to be sold.
The new law, the Humane Pet Store Ordinance, will come into effect this November. Only one store in Dallas will actually be affected – Petland, the only one currently selling live animals.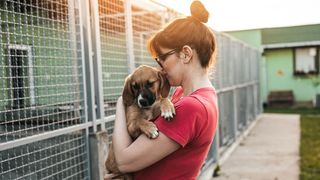 There are also dozens of 'humane pet stores' which don't sell animals but match potential owners up to rescue pets.
Ed Jamison of North-Texas-based rescue and rehoming charity Operation Kindness told local news channel CBS 10 News, ""We're proud to see that the city of Dallas is once again putting the interests of dogs and cats first."
Petland owner Jay Suk spoke out against the new law, saying that the store only sells animals from licensed breeders who pass a US Department of Agriculture inspection. Employees commented that they work hard to make sure the animals in their care are healthy and happy and they always follow up with customers. Suk added that he feared having to close the store with the loss of employee jobs.
After hearing arguments on both sides, the Dallas City Council voted unanimously in favor of passing the new law.
Dallas residents are still encouraged to adopt from shelters or find a reputable breeder after research. District 2 Dallas City Councilman Jesse Morano explained that he'd supported the new law as he had once had a bad experience after buying a puppy from a commercial store.
Animal welfare activists have applauded the move, which will help reduce the pressure on animal shelters, combat the puppy mill trade and help prevent customers ending up with sick animals.
We're got our fingers crossed that more cities will follow on and consider implementing this sensible and humane law which protects customers and puppies alike. Way to go, Dallas!
Get the best advice, tips and top tech for your beloved Pets
Sara is a freelance journalist and copywriter of many years' experience with a lifelong love of animals. She's written for a range of magazines and websites on subjects varying from pet care to travel. A horse rider since the age of five, she's currently a full time pet slave to horse Blue and gorgeous, goofy English Springer Spaniel Olly. Adorable Olly has a huge sense of adventure and no sense of direction, keeping Sara on her toes.