Deaf Pit Bull makes friends for life with teenager who is gradually losing his hearing
Deaf Pit Bull mix Dave has found the perfect home with an autistic teenager who is gradually losing his hearing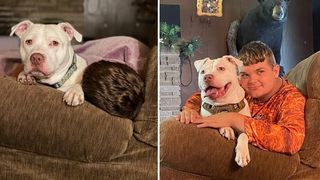 (Image credit: Facebook / @hsomcshelter)
A deaf Pit Bull has made a new best friend for life – a teenager in Michigan.
Six-year-old Pit Bull mix Puppy didn't have the best start in life. Not only is he completely deaf, but he was also a stray wandering the streets of Midland County in Michigan.
Fortunately, he was found and taken to the Humane Society of Midland County (HSOMC), a non-profit animal shelter dedicated to finding permanent loving homes for abused, unwanted and abandoned animals.
The shelter is staffed mainly by volunteers, who quickly fell in love with this sweet, gentle boy. Volunteers got to work trying to find a forever home for this special resident, who was always super-friendly despite his deafness.
The Empty the Shelters July 2022 event, sponsored by the Bissell Foundation, was just round the corner and volunteers hoped that the reduced fees on offer would help to find Puppy a home. Although more than 29,000 pets were adopted during the event, the highest number ever, it looked like poor Puppy wasn't going to be one of them.
Fortunately, Puppy's fur-ever family was already out there waiting in the shape of 14-year-old Walker Cousineau.
Walker, who is on the autistic spectrum and is gradually losing his hearing, saw Puppy's photo on social media and was adamant that he had to meet him. He said to his mother that he'd seen a deaf dog in Midland County and knew he was the right one for him.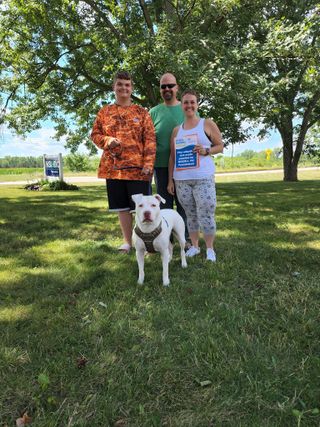 When the family arrived at the shelter on the last day of the event, Puppy (now renamed Dave) came right up to Walker and the family instantly fell in love. In total, eight dogs were adopted from the shelter during the July event.
The adorable rescue pup has quickly settled into his new routine, and even already understands all his commands through sign language.
In an unforeseen twist, Walker, who had never previously wanted to learn sign language, is now enthusiastic about doing so so that he can communicate with his new best friend. According to Walker's mom Mindy, Dave even knows instinctively how to soothe Walker when he's having trouble dealing with a stressful situation.
Now, Dave is an integral part of the family and couldn't be happier. Everyone is delighted to see such a perfect pairing, with HSOMC volunteers commenting, "Awww, sweet Puppy! We will miss seeing you and playing with soooo much, but it sure looks like you found just the perfect home," and "What a great match!"
With Walker and Dave now looking after each other, it's a great reminder that there's a perfect home out there for every shelter dog, even - or especially - if they're just a little different.
Get the best advice, tips and top tech for your beloved Pets
Sara is a freelance journalist and copywriter of many years' experience with a lifelong love of animals. She's written for a range of magazines and websites on subjects varying from pet care to travel. A horse rider since the age of five, she's currently a full time pet slave to horse Blue and gorgeous, goofy English Springer Spaniel Olly. Adorable Olly has a huge sense of adventure and no sense of direction, keeping Sara on her toes.