Dog behaviorist shares secret for stress-free nail clipping, and it's all in the setup
Nail clipping is a saga for many canines and their owners but this dog behavior expert has a simple tip for easing the process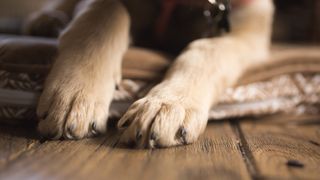 (Image credit: Getty)
In an ideal world, dogs would enjoy a pamper session and sit perfectly still as you give them a pedicure. Unfortunately, this isn't the case for many canine owners who desperately want to overcome the first hurdle...getting their dog to stay still.
Whether you have a young and lively pup who can wriggle its way out of any position, or an older more stubborn pooch, you'll know how tricky nail trimming can be even with one of the longest lasting dog chews to hand for distraction purposes.
But before you lose all hope and resort to paying a vet to trim down your dog's nails, dog behavior specialist Gia Savocchi has shared on Tiktok her tried and tested method for getting a dog to stay calm during a nail trimming session.
Savocchi says in her video, "One part of trimming your dogs nails is teaching them how to stay still in the right position before you even get started with the trim."
Aware of the common battle that many dog owners face she goes on to demonstrate with her own canine how important the setup is in order to reinforce stillness and calm before getting started on the job.
Watch Thinking Canine demonstrate how to keep your dog still for nail clipping
"I personally like to teach my dogs how to lay calmly in my lap and that gives me easy access to their nails for both inspections and trims," Savocchie notes. "I like using clippers and a dremel and this position works great for both of those tools." If you aren't familiar with a dremel, it is a rotary dog grooming tool used for grinding down a dog's nails.
She encourages using treats when trying out her technique on your own dog, as she does with her own. "I teach my puppy to lay calmly on her back with her face resting against my leg using plenty of treats and then I get her used to (me) handling her feet before we even try to do a trim."
It's no wonder dogs don't enjoy being forced into a certain position while clippers are brought so close to their paws. This is why building trust before and during the nail-clipping process will help. Savocchi says that her dog has been taught to accept hugs and to be picked up before she tries to gently flip her on her back.
Dogs come in all shapes and sizes so setting your dog up in the laying down position between your legs may not be that easy. However, instilling trust between you and your dog like Savocchi recommends can still help you and your dog to find a position that they feel comfortable in and this should ensure they stay still while you clip away at their nails.
Get the best advice, tips and top tech for your beloved Pets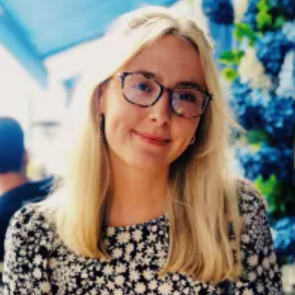 Jessica is Staff Writer at PetsRadar who joined the team after spending over a year writing for the brand's sister site, Fit&Well. She is an avid dog spotter whilst out for her weekly runs and brings to the team a passion for creating informative and helpful digital content, which she has been putting to practice since graduating with a degree in Magazine Journalism in 2021.