New study reveals dog life expectancy by breed
Flat-faced dogs live a third as long as Jack Russell Terriers according to researchers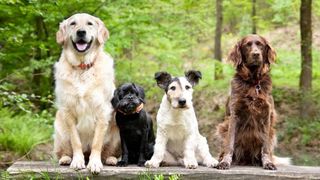 (Image credit: Getty Images)
British scientists have worked out just how long we can expect to enjoy our canine companions in a new study that reveals a dog's life expectancy by breed.
While all dog owners would love their pet to live as long as possible, researchers from the Royal Veterinary College's (RVC) VetCompass have showed that our four-legged friends live for an average of 11.2 years.
Taking a random sample of 30,563 dogs that had died between January 1, 2016, and July 31, 2020, the scientists analyzed 18 different breeds and crossbreeds. They discovered Jack Russells have the highest life expectancy, chalking up an average of 12.7 years. French Bulldogs, however, have the lowest life expectancy – just 4.5 years on average.
The findings comes just weeks after it emerged French Bulldogs and Pugs face a UK ban over "dangerous" over-breeding fears.
This is said to be due to multiple problems such as breathing issues, spinal disease and dystocia, with the research finding English Bulldogs are expected to live 7.4 years, Pugs 7.7 years and American Bulldogs 7.8 years.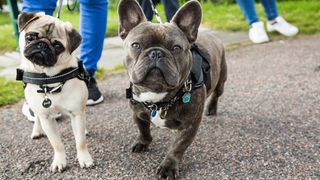 "The short life expectancies for flat-faced breeds such as French Bulldogs shown by the VetCompass Life tables supports the UK Brachycephalic Working Group's call for all owners to 'Stop and think before buying a flat-faced dog'," said Dr Dan O'Neill, associate professor in Companion Animal Epidemiology at the RVC, and co-author of the paper.
The research also discovered that male dogs tend to live less long than female dogs: for 11.1 years compared to 11.5 years.
Neutered dogs also have a longer life expectancy: neutered females live for an average of 11.98 years compared to 10.50 years and neutered males live for 11.49 years compared to 10.58.
Dog life expectancy by breed, from highest to lowest
Jack Russell Terrier: 12.72 years
Yorkshire Terrier: 12.54 years
Border Collie: 12.10 years
Springer Spaniel: 11.92 years
Crossbred: 11.82 years
Labrador Retriever: 11.77 years
Staffordshire Bull Terrier: 11.33 years
Cocker Spaniel: 11.31 years
Shih-tzu: 11.05 years
Cavalier King Charles Spaniel: 10.45 years
German Shepherd Dog: 10.16 years
Boxer: 10.04 years
Beagle: 9.85 years
Husky: 9.53 years
Chihuahua: 7.91 years
American Bulldog: 7.79 years
Pug: 7.65 years
English Bulldog: 7.39 years
French Bulldog: 4.53 years
According to Dr O'Neill, the study's purpose is to give owners a better idea of how long they can benefit from owning a dog. It differs from previous guesstimates based on the average age of dogs overall or for a particular breed.
"[It] helps us understand and determine more accurately a dog's life expectancy given different factors throughout their lives, instead of just based on historic breed estimates," said Bill Lambert, Health Welfare and Breeder Services executive at the Kennel Club.
The team is now set to collate similar data for cats while expanding their work to discover dog life expectancies in other countries.
Get the best advice, tips and top tech for your beloved Pets
David Crookes has been a journalist for more than 20 years and he has written for a host of magazines, newspapers, websites and books including World of Animals, BBC Earth, Dogs and Canines, Gadget and The Independent. Born in England, he lives in a household with two cats but he's also keenly interested in the differences between the huge number of dog breeds — in fact, you can read many of his breed guides here on PetsRadar. With a lifelong passion for technology, too, he's always on the lookout for useful devices that will allow people to spend more time with their pets.