Dog owner told to ditch an "offensive" pooch name
A pet parent is adamant that a dog's name is not a slur against Americans and the internet seems to agree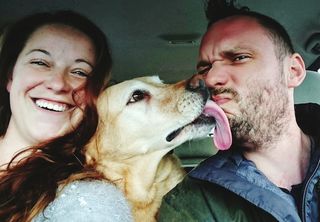 (Image credit: Getty Images)
When naming a pooch, dog owners can choose just about any name. In fact, they can look through a list of the most popular pet names and select any one of them: Bella, Luna, Cooper or Max, perhaps, or even Boris (although they may want to steer clear of that one, particularly if they're British).
One dog owner decided on something a little different, though, giving his pet the name Yankee a few years ago! "I thought it was funny, and he seems to like his name," the owner said. But it didn't go down well among one particular family member.
The pet parent's sister's boyfriend is American and when he met the dog for the first time he took great offence, demanding the name be changed. Determined to keep it, the owner then took to Reddit to see what other people thought. "Most of my pets have peculiar names so I assumed it was just an over reaction," the owner wrote.
Yet the man wouldn't let it go. He turned up the following day and said the word Yankee was a slur. "I just kind of laughed and told him he was off his nut," the owner continued. And it would appear that Reddit followers agree, with most insisting the name should stay.
"Yea. It's definitely a slur," replied one, tongue firmly in cheek. "That's why we have the entire New York Yankees baseball team. And, Yankee Candle, and Yankee Doodle." Another concurred: "Yankee is pretty much considered a positive connotation nowadays." Some even suggested the objection was a sports thing. "Where the heck is he from? Boston?"
One reply suggested the name wasn't even all that rare. "I live in New York Yankees fan territory and work with dogs, Yankee is a relatively common name for pets around here. It's not quite a Bella or Tucker in terms of popularity but multiple patients have that name at the clinic I work at."
But is the word Yankee offensive? Well, the Urban Dictionary suggests so, saying it's a derogatory term used by Brits, Canadians and Australians to describe Americans. Yet it also says it's used within the USA to define an American from the Northern States.
Better perhaps to refer to National Geographic which says the word did indeed start as an insult and sometimes had a negative description but that, at other times, it's a playful term. "No one is really sure where the word Yankee came from. Some say a British general named James Wolfe used it first in 1758 when he was commanding some New England soldiers," it offers.
As for the dog's name? It remains.
Get the best advice, tips and top tech for your beloved Pets
David Crookes has been a journalist for more than 20 years and he has written for a host of magazines, newspapers, websites and books including World of Animals, BBC Earth, Dogs and Canines, Gadget and The Independent. Born in England, he lives in a household with two cats but he's also keenly interested in the differences between the huge number of dog breeds — in fact, you can read many of his breed guides here on PetsRadar. With a lifelong passion for technology, too, he's always on the lookout for useful devices that will allow people to spend more time with their pets.