Watch: Dog pretending to be invisible to stay on owner's bed is the cutest thing you'll see today
Sonny the Staffordshire Bull Terrier had other ideas when his owner asked him to leave his comfortable spot on the bed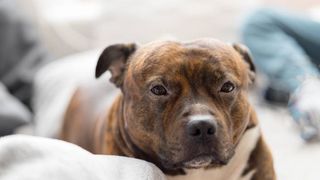 (Image credit: Getty Images)
We've all had days when we just want to hide under the covers and hope the world goes away. Sonny the Staffordshire Bull Terrier recently took it to extremes, though, pretending to be invisible so he wouldn't have to relinquish his comfy nest on his owner's bed.
The video, which has gone viral on TikTok with around 309,000 views, shows Sonny sitting upright on his owner's bed and staring blankly into the distance.
His owner, who is in the bed next to him, repeatedly asks him to get down but Sonny has parked his butt on the other pillow and clearly has his metaphorical fingers in his ears!
Sonny, who has his own account at @sonnystaffy, sits stock still while his owner says, "Sonny, don't ignore me! Sonny, get down!"
Sonny doesn't react in any way whatsoever – clearly a case of 'if I can't see them, they can't see me'!
The video, captioned 'If I don't look at them then it's not happening', has attracted hundreds of comments.
Sonny's owner has been quick to point out that 'he has his own big comfy bed right near ours. We wrap him in woolen blankets as night as he hates [bed] clothes. Don't be fooled – he is well loved.'
Commenters were very much on Sonny's side, with remarks such as 'That's adorable. He has to stay!" and "Good job Sonny. Keep it up!"
Others suggested that the stubbornness was a typical Staffy trait and the owner would probably end up giving up and sleeping on the couch herself.
According to the Staffordshire Bull Terrier Club of America, there are "some things you can expect to find in the personality of every Stafford."
"They are tough, courageous, tenacious, stubborn, people loving and comfort loving. A Staffordshire Bull Terrier desires, more than anything else, to be with [their] people."
From what we've seen in the video, Sonny certainly does seem to be a typical Staffy – we wonder if his owner really did end up sleeping on the couch?!
Get the best advice, tips and top tech for your beloved Pets
Sara is a freelance journalist and copywriter of many years' experience with a lifelong love of animals. She's written for a range of magazines and websites on subjects varying from pet care to travel. A horse rider since the age of five, she's currently a full time pet slave to horse Blue and gorgeous, goofy English Springer Spaniel Olly. Adorable Olly has a huge sense of adventure and no sense of direction, keeping Sara on her toes.