Rescue dog throws himself a party, trashes toys
Gilligan the rescue dog decided to blow off steam on one very wild night at the shelter - by throwing himself a party!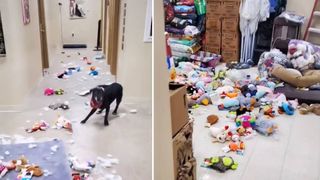 (Image credit: TikTok / @stardust9982)
Ever thrown a party when your folks were out of town then realized you'd have to deal with the consequences of a very messy night? That's what happened recently at Bedford County Humane Society, a dog shelter in Pennsylvania. There were two exceptions in this case – the culprit made all the mess on his own, and he had no remorse for his actions at all.
Like many dogs who end up in shelters, Gilligan had a rough start in life. He was luckier than many, though – the shelter itself adopted him and made him its official 'greeter' dog. Now Gilligan takes pride in his job, which is to meet 'n' greet potential new adopters as they come in and check them for suitability – and treats.
Working so hard clearly takes a toll, and Gilligan sometimes has to blow off a little steam. On January 13, an employee put Gilligan back in his cage for the evening when staff went home – and didn't lock the door properly.
The dynamic dog immediately seized his chance and took the opportunity to wiggle himself free. From then on, it was party time!
Coming into work the following morning, an employee found a scene of utter devastation. Shreds of plush toys were scattered along the corridors and across three rooms.
"Well, someone had a good night at the shelter," the employee said, with understatement, on a short video posted to TikTok under the user name @stardust9982."Let's go find who did it," she added, while walking along the corridor. "It was…Gilligan!"
At the sound of his name, Gilligan, a black dog wearing a jaunty red bandana, bounced out of a doorway, completely unrepentant and jumping around proudly wagging his tail and showing off his handiwork.
A big pile of toys had been donated for the holidays, meaning that the mischievous mutt could have an even more pawsome time than usual. Footage also posted on TikTok and taken from the shelter's security cameras shows him carefully selecting his victims from the pile – all the toys with squeakers!
While anything that squeaked had a short life expectancy from there, the puckish pup ignored piles of plain plush toys and food.
While they did lose a few toys to the onslaught, shelter staff couldn't be cross with their misbehaving mutt as he was clearly so pleased with himself.
Looks like dog lovers across the world agree: his video clip has been viewed more than 2.6 million times, with viewers commenting "Clearly, not a guilty bone in his body", and "he deserved this night of unbridled fun". Others offered to donate to an Amazon wishlist to replace Gilligan's victims.
We can only hope that the next time we throw a party our neighbors take it this well!
Get the best advice, tips and top tech for your beloved Pets
Sara is a freelance journalist and copywriter of many years' experience with a lifelong love of animals. She's written for a range of magazines and websites on subjects varying from pet care to travel. A horse rider since the age of five, she's currently a full time pet slave to horse Blue and gorgeous, goofy English Springer Spaniel Olly. Adorable Olly has a huge sense of adventure and no sense of direction, keeping Sara on her toes.