Ethan the dog befriends fellow rescue pup Travolta at the Kentucky Humane Society
Watch Ethan the dog raise the spirits of a fellow survivor in a heartwarming video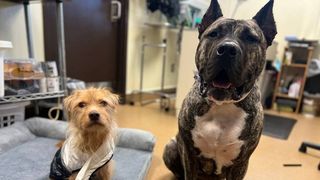 (Image credit: Kentucky Humane Society)
Known to many pet parents as the official face of Busch Beer's Dog Brew, Ethan the dog recently went back to his less fortunate roots at the Kentucky Humane Society to meet a fellow survivor called Travolta for the very first time.
Both Ethan and Travolta share a common bond in that they were both found severely emaciated and taken to the society after being on the brink of death. While Ethan, a Cane Corso mix, was found abandoned in a parking lot, Travolta was discovered emaciated at the side of the road.
According to a Facebook video posted by the shelter on January 3, Travolta's lifeless body was recovered at the start of 2022 "covered in urine and feces, [with] open and infected pressure sores all over his body, a badly infected scrotum... covered in maggots, and was suffering from starvation with a body scale score of 1 out of 9."
However, after receiving round-the-clock life-saving treatment from the Kentucky Humane Society both Travolta and Ethan have since returned back to full health, with Ethan having since been adopted by KHS staff member Jeff Callaway, who welcomed him into his home after overseeing his recovery.
Having returned to the shelter for a visit, Ethan can be seen in a recently filmed meet-up posted by WLKY News Louisville greeting Travolta for the first time.
After an initially shy encounter, the pair soon become acquainted with one another, with the charity posting a series of adorably heartwarming pictures of the newly bonded pair over on their Facebook page to commemorate the special event.
"Look who had a visitor!" the shelter wrote. "Our baby Ethan stopped by our veterinary ward to give Travolta some love and support during his recovery. Travolta is doing well today."
Travolta has already gained more than four pounds since arriving at the shelter, and is now able to walk for short periods of time. Now, thanks to his Ethan, he's making new friends already.
If you'd like to follow more of Travolta's progress, visit the Kentucky Humane Society over on social media.
Get the best advice, tips and top tech for your beloved Pets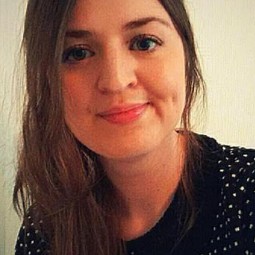 Ashleigh is Digital Editor on PetsRadar. With over 8 years of experience in print and digital media, she has acted as an editorial lead on a variety of projects, with animal themes a keen interest. As an avid animal lover, you can often find Ashleigh checking out the newest trends in animal care or looking at cute cat videos on TikTok.