How Lady the abandoned rescue pitbull became TikTok famous
Lady the rescue pitbull was left at a New York City Animal Care Center obese and with arthritis, but her foster mom was dedicated to her journey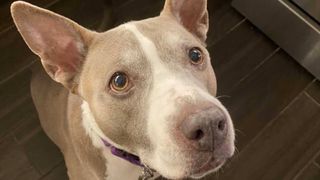 (Image credit: Muddy Paws Rescue)
Muddy Paws Rescue pulled Lady the rescue pitbull from the Animal Care Center in NYC in July of 2020. She was obese, arthritic, and had a whole host of skin allergies, and was clearly dumped there by her former olders as she was an adult dog. Imagine spending seven years of your life with a family, just to be left behind?
Muddy Paws is a rescue without a physical location, so it depends on its foster network to help pull dogs from shelters who may never get a second chance – senior dogs and special needs dogs are prime examples of the kinds of dogs that may get overlooked, and Lady was both of those things. Often, senior dogs are overlooked at shelters, and dogs with medical issues may not get adopted because of the perceived financial burden. That's why rescues like Muddy Paws exist – to pull those hard-to-place dogs out of shelters and get them into foster homes where they can thrive. Lady may have been dumped at ACC, but her life was about to change.
Muddy Paws pulled Lady from ACC and placed her in a foster home with Molly, a New York City-based comedian, who immediately took to TikTok and Instagram to make hilarious videos about Lady's weightloss journey and goal of "becoming a model." Despite her rather short stature, Lady was 76 pounds, which is pretty hefty for a pitbull, let alone a rescue pitbull. Her goal weight was 50 pounds, which meant she had to go on a diet and start exercising. Lady was so hefty, she waddled when she walked, which means her former family probably never took her outside for exercise, and didn't pay attention to how she ate.
Molly documented Lady's journey on her Instagram and Tiktok, posting videos of her walks, her post-walk, hangs, and more adorably, hilarious looks at Lady's journey. One TikTok in particular told Lady's story and jokingly stated she wanted to become a model, but hesitated committing to the weight loss journey. When that TikTok went viral, Lady had millions of people in her corner watching and cheering as she lost a ton of weight, got arthritis treatments, and lived a life of luxury and love with her foster mom. She was even recognized on the streets of New York City by fans of her TikToks – she really did become a famous model.
According to Muddy Paws, Lady's treatment cost the rescue an average of $500 a month, and Molly had to remain consistent with her diet and allergy and arthritis treatments. She even became one of the rescue's "longest stay pups ever" as Molly and the team tried to sort out all of her health issues. However, Lady kept improving and kept losing that weight (20 pounds!), and in February 2021, Lady was adopted by Crystal and CJ. In a post shared to Muddy Paw Rescue's Facebook page, a much more trim Lady licks her new dad's face, begs for food, takes a car ride, and shows off her adorable ears. It's clear that Lady went from being abandoned and possibly neglected and left a shelter as a high-risk case, to living a brand-new healthy life with two rescue parents that love her.
In an interview with Muddy Paws Rescue, marketing director Mallory Kellery said Lady's story was one of her favorites. It's certainly inspiring, and a reminder that every rescue dog deserves a second chance at life.
Get the best advice, tips and top tech for your beloved Pets