Five celebrity rescue dogs - pooches from the pound that found fame
By Chloe Petrylak published
Meet these five celebrity rescue dogs who were rescued by the rich and famous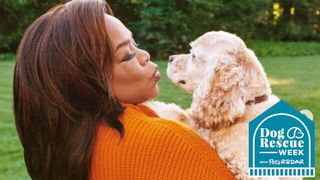 (Image credit: Oprah)
Turns out the rich and famous love rescue dogs as much as we do and these celebrity rescue dogs are living proof. Just because some people live the high life doesn't mean that they will only have the most expensive purebred, "designer" pups. So scroll down to check out our fab five celeb roundup and their wonderful rescue pooches.
Kristen Bell and Whiskey
Earlier this year, Kristen Bell revealed the family's newest furry rescue, two-year-old Whiskey, on her Instagram page. In her post, Kristen described how their new addition had an unfortunate run-in with a truck before they adopted him, which resulted in the loss of one of his back legs. Not that it's stopped him! Three-legged Whiskey now enjoys life with the family – mostly snuggled up on their laps – as well as playing with his brother, three-year-old Frank, the family's other rescue dog.
Kristen is a lifelong champion of fostering and adopting dogs, having given both temporary and forever homes to numerous canines over the years. "I adore dogs. I think they're nature's antidepressants… I gravitate towards dogs so much, I think because they're nonverbal, and sometimes I feel I can't always find the words," she told USA Today.
John Hamm and Splash
California-based non-profit animal rescue organisation, I Stand With My Pack, were delighted to announce last year that Mad Men actor, Jon Hamm, had adopted one of their puppies, named Splash. Before finding his forever home, this adorable pooch had been returned to the shelter twice because of his bouncy puppy energy, so it was definitely a case of third time lucky for Splash!
This isn't the first rescue dog that Jon has adopted. Back in 2015, he spoke to People.com about his rescue dog, German shepherd mix Cora (who sadly passed in 2017), and how she had had a huge positive effect on his life.
"Pets can bring to us a sense of love and pride and all of those wonderful things," he explained during his acceptance speech at the Emmy Awards in 2015.
Selena Gomez and Daisy
When the coronavirus pandemic first began, a growing number of celebrities decided to offer up their homes to foster rescue dogs. Having had rescue canines in the past, Selena Gomez jumped at the chance and fostered curly-haired pup, Daisy. Although things didn't stay that way for long with Selena admitting on social media that she was a foster failure: "I couldn't help it… I have to keep her."
SELENAS NEW DOG DAISY 😭😭🥺😍😍 my heart pic.twitter.com/vBOZuP5gewMarch 24, 2020
Newly adopted Daisy now lives happily with Selena and her other dog, Winnie, in their California home. During her Instagram Live announcement last year, Selena said that "I know a few friends who are fostering right now just to give animals a safe place."
Liev Schreiber and Scout
In July last year, Liev Schreiber revealed a picture of his new furry companion, named Scout, on Instagram. Liev thanked Tobie's Small Dog Rescue, a non-profit organisation based in Los Angeles, California, in his post for connecting him with this loveable canine.
Liev has a long history of adopting rescue dogs. In 2017, he adopted a brother-and-sister duo, called Woody and Willow, who had become displaced as a result of Hurricane Harvey. Sadly, a few weeks prior to adopting Scout, Woody passed away after being involved in a car accident. "He was an amazing friend, teacher, and companion… Those of you who have a friend like Woody will know what I mean. Hold them close," Liev told his Instagram followers.
Oprah Winfrey and Sadie
During her lifetime, Oprah Winfrey has given a forever home to more than 20 dogs, many of which have been rescues. She adopted her cocker spaniel, Sadie, in 2009 from a no-kill animal shelter called PAWS (Pets Are Worth Saving) in Chicago. That same year, Oprah adopted a pair of 14-week-old springer spaniels from the same shelter, called Lauren and Sunny.
Nothing makes me happier than being with my dogs," Oprah once said. "Over the years I have felt the truest purest love – the love of God, really, I imagine that's what God's love feels like – is the love that comes from your dog."
Adopting a dog
As a result of the coronavirus pandemic, rescue shelters across the country have been inundated with animals in need of a new home (due to their previous owners passing away or losing their job, meaning that they can no longer afford to care for them).
"The companionship of pets has been shown to reduce stress and lower anxiety, helping people to feel calmer and more secure when the news from the outside world is distressing", explained Julie Castle, CEO of Best Friends Animal Society.
So, if you're looking to add a furry friend to the family, consider visiting your local animal shelter.
Chloe is a freelance writer, editor, and proofreader, who has more than ten years' experience in creating animal-focussed content. From National Geographic to Animal Planet, Chloe's passion for creating fact-filled features all about wildlife and the environment is evident. But it's not just wild animals that Chloe's fascinated by. Having written more than 75 articles for PetsRadar - and having her very own four-legged friend by her side - it's no wonder that her love of dogs (and, of course, cats) has grown exponentially.
Her website, www.chloemaywrites.com, and social media pages - @ChloeMayWrites on Instagram, Facebook, and Twitter - showcase her knowledge through daily facts and trivia tidbits. For example, did you know that snails have teeth?!
Get the best advice, tips and top tech for your beloved Pets
Thank you for signing up to Petsradar. You will receive a verification email shortly.
There was a problem. Please refresh the page and try again.