Adopting a pit bull: Meet the award-winning New Yorker working to change perceptions
After adopting a pit bull called Maddie, New Yorker Michele Caruso became determined to spread the word about how charming this much-maligned breed can really be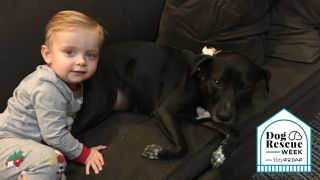 (Image credit: Michele Caruso)
Adopting a pit bull isn't the most common #adoptdontshop story. Pitbull breeds (which includes dogs such as the American pit bull Terrier and Staffordshire Bull Terrier) don't have the best reputation. Indeed, the perception is so bad that in some locations, some types of the breed are banned altogether, or banned from certain buildings. However, for one kind-hearted adopter, nothing could be further from the truth as she's become an ardent defender of this much-maligned breed.
For Michele Caruso, the love started after adopting her rescue dog, pit bull mix Maddie. Although determined only to rescue, rather than work with a breeder, she admits she'd never thought she'd be drawn towards a pit bull. Indeed, she had her own preconceived notions of what they would be like, "I was afraid of the pit bull breed based on what I saw on TV, or read in the papers," she says. "Most stories on the news about pit bull and pit mixes are rarely positive. We were told she was a mix and very sweet and it was apparent as soon as we brought her home that she was loving and affectionate. Every day she grew more comfortable and confident and we did as well."
It clearly didn't take long for Michele to fall in love with Maddie. After conducting some research into the history of the breed, she felt compelled to become a defender of the pit bull. "Immediately we became fierce protectors, we even had to defend her breed to friends and family. I read up on the breed and found that pit bulls were once nanny dogs in the early 1900s and were beloved. It wasn't until recently that they became known for being violent and dangerous. It's how the dogs are raised and cared for.
"Most dogs are loyal and aim to please. However, if you have a strong dog and raise them to be rough and violent, that's what you'll get."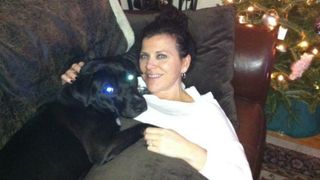 Due to her love for Maddie, and by extension the pit bull breed, Michele began fostering other dogs in the process of looking for their forever homes. As she explains, fostering is an essential part of many animal adoptions. "Most non-profit rescues depend on fosters as they don't have a shelter, they pull dogs from shelters and place them in foster homes to acclimate dogs to a home life.
"Rescues ask potential fosterers to fill out an application and they will vet the potential fosterer to make sure intentions are good and they are suited to becoming a fosterer. Fostering can be as little as a few days or as long as a few weeks or months. It really depends on the dog or the circumstances – personally I have fostered for a long weekend and up to two months." Michele and her family have fostered 18 dogs over the years, including a "failed foster" (adopting) of a corgi pit mix.
Michele's work on altering perceptions is from a position of understanding and patience. She says that people have often crossed the street when she's out walking Maddie to avoid them, but she gets it. "I just say something silly like, 'I don't bite'. I don't try to preach to people, you typically can't get through to those people. I'm happy to have a healthy conversation with anyone that asks serious questions about the breed. It's good to have some fun facts about the breed and let people know that all dogs aren't born bad, they're born good and pure."
For others who aren't used to the breed and may be nervous when encountering them, especially when out with their own dogs, Michele says, "I know all about nerves, I too was once nervous. You can tell a lot about a dog by its body language. If the dog's tail is wagging that's a good sign, but if you see that the dog is uneasy and agitated, avoid the dog. You really need to trust your gut."
All of Michele's hard work has not gone unnoticed. For her continued dedication throughout the Covid crisis, she was recently awarded a silver medal President's Volunteer Service Award, a scheme which recognizes the important role volunteers play and honors individuals who have positively impacted their community.
Stories like Michele and Maddie's, along with studies such as that from the UK's Royal Veterinary College, will help to change perceptions and reverse breed-specific legislation across the globe.
Get the best advice, tips and top tech for your beloved Pets
Amy Davies is a freelance writer and photographer with over 15 years experience. She has a degree in journalism from Cardiff University and has written about a huge variety of topics over the years. These days she mostly specialises in technology and pets, writing across a number of different titles including TechRadar, Stuff, Expert Reviews, T3, Digital Camera World, and of course PetsRadar. She lives in Cardiff with her dog, Lola, a rescue miniature dachshund.