50 dogs and cats rescued from Connecticut fire
Two dogs sadly died in the fire, while residents jumped from second storey windows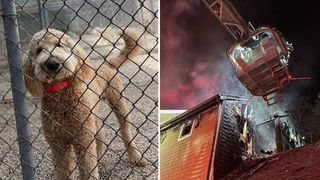 (Image credit: Facebook / Town of Westport Fire Department)
A terrible catastrophe was averted Wednesday night when boarding kennels in Westport Connecticut caught fire. The popular Townhouse for Cats and Dogs was full for spring break, with 50 canine and feline residents.
The building, on Post Road East, contained boarding kennels on the ground and first floor with an apartment on the second. At 11.43pm the Westport Emergency Communications Center sent firefighters to reports of a commercial fire alarm where they found a heavy fire on the second floor.
Emergency services immediately swung into action and attacked the blaze with two fire hoses. On searching the building, they discovered that the three occupants of the apartment had managed to escape.
Having been awakened by smoke detectors, the residents realized that escape routes were cut off by the fire and were forced to jump from the second storey window. There were no serious injuries and they were checked and treated at the scene.
Meanwhile, firefighters and police officers were working to secure the safely of around 50 cats and dogs on the premises. They were moved to another part of the building unaffected by the fire and are currently being cared for by boarding kennel staff.
While all the visiting dogs and cats were saved, very sadly two dogs belonging to owners Mel and Sally Goldman, who were in the apartment where the fire originally broke out, could not be rescued.
Fire Chief Michael Kronick said, "Cause of the fire is under investigation by the Westport Fire Marshal's Office. Cause and origin determination remain forthcoming."
Pet owner Injae Choe, whose four-year-old Maltipoo Cookie was resident at the time, was horrified to hear about the fire and relieved to recover his beloved pet. Having just returned from the Bahamas he went to pick her up at the agreed time and found the aftermath of the blaze.
"Oh gosh, I'm just glad that my dog is safe and sound," he said, adding that he might get her checked by a veterinarian anyway.
Westport Fire Marshal Nathaniel Gibbons said of the fire, "The residents were saved by a house fire alarm system that had recently been upgraded during their annual fire inspection. This drives home the importance of having working smoke alarms in your homes or place of business."
Having a working smoke alarm is particularly important if you have pets at home, so check it regularly using the test button and replace batteries when required.
Get the best advice, tips and top tech for your beloved Pets
Sara is a freelance journalist and copywriter of many years' experience with a lifelong love of animals. She's written for a range of magazines and websites on subjects varying from pet care to travel. A horse rider since the age of five, she's currently a full time pet slave to horse Blue and gorgeous, goofy English Springer Spaniel Olly. Adorable Olly has a huge sense of adventure and no sense of direction, keeping Sara on her toes.