Watch: Fire crews save pup in dramatic Los Angeles River dog rescue
Los Angeles River dog rescue succeeds thanks to heroes from the LA Fire Department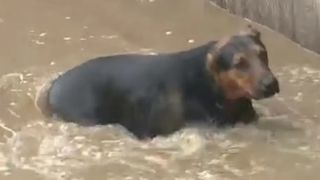 (Image credit: Fox News)
Dramatic footage of the Los Angeles River dog rescue shows Fire Department crew pulling a dog and his owner from the water in Studio City on Monday.
The rescue mission came after a first call was made around 2:15pm. Crews had to urge bystanders in the area not to intervene after a man who had jumped into the water to try and save the pooch, needed rescuing himself. It was stated the 28-year-old man was then bitten by the dog and had continued downstream.
"The poor canine was very tired, very scared, and the more people were around, the more scared he got and he did bite that well intentioned 28-year-old male who was trying to help him," confirmed Captain II Erik Scott from Los Angeles Fire Department during a press conference, "that's another reason we don't want people jumping in for these canines because they're obviously scared."
After a two-and-a-half hour rescue mission, crews made multiple efforts to get the dog out of the water and back to safety. The German Shepherd mix was then transported to the East Valley Animal Shelter where he will be evaluated. It is also not clear as to whether the dog's owner is homeless.
However, the rescue mission didn't go smoothly at first, with its fair share of drama. LAFD stated that prior to the dog's rescue, a rope system was used to lower a firefighter over the edge in order for a rescue ring to be handed to the owner. However, the woman's desperate attempts to hang on to her pooch meant that she abandoned the rescue ring. While another rescuer was lowered from the helicopter to secure the woman, the dog fought the rescuer and broke loose. It was at this point that the bystander jumped into the river to grab hold of the canine before he slipped away into the current of the water. Thankfully, all parties were rescued safely and out of danger.
Get the best advice, tips and top tech for your beloved Pets
Cynthia Lawrence is freelance lifestyle journalist. Starting off her career in national magazines, she moved to digital and e-commerce publications. When she's not reviewing exciting products, she is obsessed with home interiors and her neighbour's cat!