Watch: Anxious bull terrier win hearts when he finally makes new friends
Pablo the anxious bull terrier has become a TikTok sensation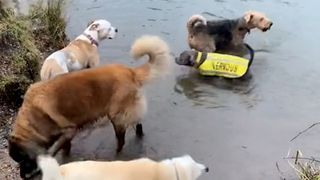 (Image credit: Staffysmilez/Tiktok)
Pablo, an anxious Bull Terrier from England has been racking up the views and likes on video sharing app TikTok. With over half a million views and more than 26K likes, the video posted by user staffysmilez is one that you don't want to miss. It's adorable, cute, heartwarming and is guaranteed to make you smile.
Pablo can be seen taking a stroll along the street wearing his reflective dog vest with 'Nervous' emblazoned on both sides. His matching lead is delicately placed in his mouth as he nervously looks around him to see what's going on. Accompanied by the caption "He's too reactive to make friends…" it's clear that he might not make dog friends easily, but he has definitely been winning the hearts of dog lovers everywhere.

The cuteness factor really goes into overdrive in the next part of the clip - captioned "...No he's just scared and needed a little help". Pablo can be seen happily running in and out of the water with a horde of new found dog friends. He's still wearing his 'Nervous' dog vest but there is definitely no signs of anxiousness as he runs out of the water alongside one of his new best friends.

Fellow dog lovers and staffie owners are showing a lot of empathy and love for Pablo and know just what he's going through. TikTok user red_and_blu commented 'Love this, my blue is also suffering anxiety due to another dog's behaviour and has become reactive, we are working on it'.
But with the post captioned 'The right training pays off' users are also looking for advice. User Chris Magee asked 'Our Boxer LOVES other dogs but is really nervous around other people... backs off and lies down. Any tips?' The reply shows exactly how much hard has been involved, 'Also this is two years of work, every single walk, every single day training and working on it, there's no magic overnight fix but it's worth it'
But it's user ItsMeDeeC198 that hits the nail on the head commenting 'Awww it's all about the training and finding the right friends' and staffysmilez couldn't agree more. '100%, a nice calm welcoming pack with training, my dreams for Pablo came true xx'

Surely, it won't be long before Pablo can say goodbye to his 'Nervous' dog vest and stroll around with all his new friends.

Get the best advice, tips and top tech for your beloved Pets
Steve Jenkins is a freelance content creator and long-time journalist with more than 20 years in the industry. He has written for numerous titles covering tech to pets, with his latest faithful hound always by his side. When not walking his dog, or discussing who's best - cats or dogs? Loud guitars, AFC Bournemouth, Photoshop, and trying to save the world take up the rest of this time.