Say cheese! Hilarious snaps of dogs catching cheese raises money for charity
Ever wondered what you look like trying to catch food in your mouth? These hilarious dogs catching cheese cubes will help you answer that!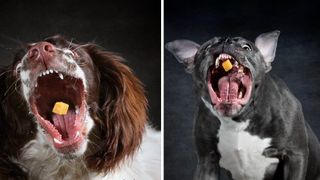 (Image credit: Carrie Southerton Dog Photography Studios)
Our pooches can be entertaining at the best of times but these hilarious snaps of dogs catching cheese have taken canine comedy to a whole other level!
Dog photographer, 56-year-old mum-of-two Carolyne Cowan, managed to capture the most perfect pictures of pooches in their attempts to catch a tasty cube of cheese.
From Greyhounds to Terriers, a total of 41 canines took part in charity fundraising event 'Catchathon', which aims to raise money to buy pet food for food banks, but not all of them caught the cheese. In fact, some didn't even bother trying to catch it!
The role of cheese thrower came down to Carolyne's husband, Alasdair, and with at least 50 snaps taken per pet, it's likely the charitable duo went through a heck of a lot of cheese in the process.
"Some were being princesses and just looking at Alasdair after he threw the cheese with great disdain, as if to say, how dare you throw something at me", explained Carolyne.
But it was all worth it in the end - even if just for the outtakes!
Despite not all of the dogs playing ball (or "playing cheese" so to speak) Carolyne - the owner of Carries Southerton Photography - described the event as "a crazy day but we have never laughed so much ever."
The event first began in 2018 and ran for a total of 14 months before the pandemic brought it to a halt. During this time, it was able to raise a whopping £15,000 ($20,000).
Carolyne decided to go digital with her event after receiving a request from someone in another country who wanted to donate as a result of seeing her fun pictures.
"We started a fundraising page because someone in America contacted us saying [that they wish] they could be there [in person] but would like to donate", Carolyne said.
As a result, they are hoping to reach a target of £2,000 ($2,618) through their GoFundMe page from generous donors all over the world.
Get the best advice, tips and top tech for your beloved Pets
Chloe is a freelance writer, editor, and proofreader, who has more than ten years' experience in creating animal-focussed content. From National Geographic to Animal Planet, Chloe's passion for creating fact-filled features all about wildlife and the environment is evident. But it's not just wild animals that Chloe's fascinated by. Having written more than 75 articles for PetsRadar - and having her very own four-legged friend by her side - it's no wonder that her love of dogs (and, of course, cats) has grown exponentially.
Her website, www.chloemaywrites.com, and social media pages - @ChloeMayWrites on Instagram, Facebook, and Twitter - showcase her knowledge through daily facts and trivia tidbits. For example, did you know that snails have teeth?!