Ex MMA Fighter adopts and rehabilitates neglected Pitbulls
Craig is rescuing abused dogs throughout the city of New York and training them to trust humans again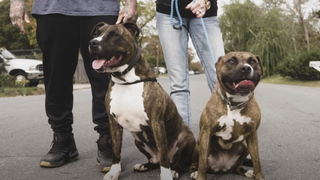 (Image credit: Future)
Craig Fields, Ex MMA Fighter, is the founder of dog charity The New York Bully Crew. They are a non-profit dog rescue team that save abused and neglected dogs in the Long Island area. Their mission is to rescue, rehabilitate and adopt out these dogs to loving homes.
Most of the dogs rescued by Craig are Pit Bulls, and they have over 150 dogs in their rescue facility at any given time. One Pit Bull named Missy was stabbed eight times, and they have worked with her to nurse her back to health.
Craig said, "it breaks my heart that there are people out there doing these things to dogs". There has recently been a bill passed that will soon make it a felony to abuse, neglect, and abandon animals in every state in the US.
The New York Bully Crew says that there are a lot of similarities between Bulldogs and MMA fighters, with Craig suggesting that often people will look at him and assume he is mean due to his appearance, which couldn't be further from the truth. Pitbulls as a breed often get a bad rep, but this team is proving how loving they can be when they are given the right treatment.
One dog that they rescued was found rolled up in a carpet, weighing just 29 pounds. He is now 89 pounds and has been adopted by a millionaire family, so he is now living his best life! This is a true Cinderella story, and The New York Bully Crew has so many more just like that.
Craig says "each one we rescue takes a piece of my heart" and he says he'll never forget any of them. He doesn't get any money for the work he does, he says he is rescuing dogs because he wants to and because it's what they deserve. He is proud to leave this legacy when he's gone.
Get the best advice, tips and top tech for your beloved Pets
Sarah is a freelance writer and marketer, covering a variety of topics from lifestyle and fitness to sustainability and travel. When she's not writing for PetsRadar or other websites, she can be found looking after her pet chickens or relaxing with a cuppa and a cute doggo snoozing on her lap!