Family reunited with beloved dog three months later and 20 miles away
Dante was found by chance at an animal shelter after his owners had moved to a new county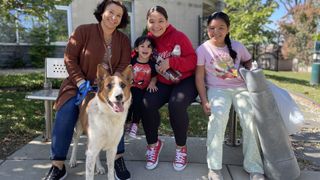 (Image credit: Fairfax County Animal Shelter)
There's not much worse than losing your dog and not knowing what's happened to it. That's what happened to the Martinez family from Virginia in the summer when their Corgi/German Shepherd mix, Dante, slipped his leash on 26 July to run after some other dogs. Despite the family's best efforts to search the neighborhood, they couldn't find him.
Three months later, having moved to a different town 20 miles away, they paid a visit to the Fairfax County Animal Shelter to look for a new dog. And while they didn't really make a connection with any of the pooches in the adoption kennels, as they were leaving the kids spotted a noticeboard with pictures of other dogs up for adoption… and one of them looked very familiar.
Dante had been found on 2 August in Burke, VA, and without a collar or microchip to identify him he was classed as a stray and taken to the Fairfax shelter where he was given a new name – Soldier – and settled in well. But while he was a friendly and vocal dog who loved games, when it came to meeting potential new owners, he simply wasn't interested, and the home came to the conclusion that he was waiting for his family to come and find him.
And although that may have seemed like a forlorn hope, that changed on 15 October when the Martinez family, having just moved into the area, came to the shelter in search of a new dog. At first they couldn't believe that the dog shown on the noticeboard was Dante, as they didn't think he could have got that far from his old home in another county. But the kids were insistent that this was Dante, so they asked to see him.
Dante recognized his humans instantly; the shelter reports that there was a whole load of jumping, whining and tail wagging, and he ran excitedly from person to person, as if to confirm that yes, these really were his people and that they'd come to take him home again. Fortunately the Martinez family had photos of Dante when he was a pup, so the shelter was quickly able to confirm that he really had been reunited with his owners, and they were able to take him home the next day.
The moral of the story? Make sure your dogs have, at the very least, a collar ID, or ideally a microchip so that if the worst happens and they get lost, they can be more easily reunited with you if they're found. And that's not the only reason why you should get your pooch chipped; our guide to seven reasons to get your dog microchipped can spell out the other advantages.
Get the best advice, tips and top tech for your beloved Pets
Jim is a writer, performer and cat-wrangler based in Bath, who last year adopted a pair of sibling rescue cats who turned out to be effectively feral, and has spent a lot of time since then trying to get them accustomed to people (some success) and each other (ongoing project).