Follow this expert's tips to become friends with any cat — including your own!
Take your time and be patient, and you'll reap the rewards!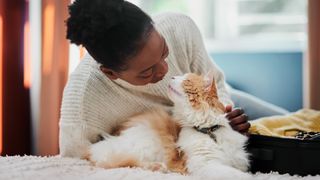 (Image credit: Getty Images)
Disclaimer
Unless specifically stated, any expert comments quoted in this news piece have been taken directly from the Instagram post cited below.
We often think of cats as being the less sociable, more solitary counterparts to dogs.
Whereas we think of dogs loving affection, the stereotype of cats is that they aren't quite as fond of it, though they might be swayed with a few of the best cat treats.
So, how can you become friends with a cat, whether it's your own or maybe a friend or relative's?
While every cat is different, Maria Kozlova, a certified cat trainer and behaviorist and founder of Cats Explained, had some advice to share in an Instagram post. You'll find out how to know if your cat loves you in no time!
"Stay calm and don't rush to pet the cat," she begins. "Let them decide when to interact."
She suggests extending your finger to the cat, to see if they sniff it and rub their head against it. When it comes to petting them, go gently behind the cat's ears, chin, or cheeks. And, remember that humans are quite big compared to cats – they're quite small animals. So, it's a good idea to get down a little closer to the cat's level, particularly if they're on the ground.
And if you have any cat treats on you, that's "even better," says Kozlova. "Share them to win them over."
But remember, it's important to respect your cat's personal space at the same time. Cats like spending a lot of time on their own, and they sleep a lot, too. So, if they're staying out of your way, it's nothing personal! And, it's worth keeping in mind that you shouldn't stare at a cat, as it's something cats will often interpret as being a sign of aggression – even if you're only staring because you're admiring how cute they are!
Once you look at the cat, look away and to the side. And, you can give them long, slow blinks, which indicate that you mean well – the cat might give you some long, slow blinks back.
Particularly if you've never owned a cat before, you might find that you have more fun with cats than you'd expect. Are cats playful? They certainly can be, and play has plenty of benefits for cats.
Play gives cats plenty of mental stimulation, and prevents potential unwanted habits like destructive behavior, boredom, and even eating disorders, and you'll channel their natural predatory instincts too.
Certainly, there are many cats who fit the aloof, solitary stereotype, but even these felines can enjoy the company of humans. It may just be strictly on their terms! And if the cat you want to make friends with isn't your own, speak to their parents or caretakers to find out more about their likes, dislikes, and preferences. Perhaps they have a favorite toy that you can try to win them around with?
If you'd like to know if you're making your four-legged friend happy, here are 17 signs of a happy cat.
And if you're looking for one sure fire way to put a smile on their dial, check out these fantastic Black Friday cat tower deals that will let them tap into those all important natural instincts.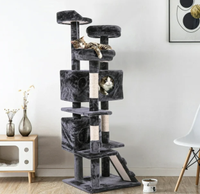 Pefilos 60-inch Cat Tree for Large Cats
Was $150.00, now $72.99 at Walmart
Super cozy and plush, this large cat tree comes with nine sturdy scratching posts as well as a soft basket, perches, and roomy condo.
Get the best advice, tips and top tech for your beloved Pets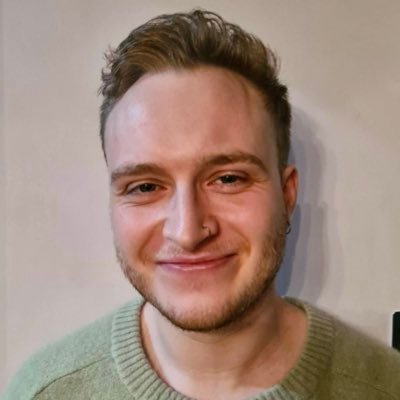 Adam is a freelance journalist covering lifestyle, health, culture, and pets, and he has five years' experience in journalism. He's also spent the last few years studying towards undergraduate and postgraduate degrees in journalism. While a cat person at heart, he's often visiting his parents' Golden Retriever, and when he's not writing about everything pets he's probably drinking coffee, visiting a cat cafe, or listening to live music.