Former NFL star teams up with 135-pound Neapolitan Mastiff pup
Washington Commanders coach Jeff Zgonina has a Super Bowl ring and several dog show ribbons to his name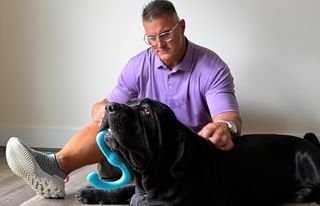 (Image credit: Getty)
What happens when an unstoppable force meets an immovable object? Well, when it comes to man-mountain former football star Jeff Zgonina and his hulking Neapolitan mastiff Hank, the answer is love at first sight.
The pair met in March this year and Hank has already smashed through the 135lb mark at just nine months old. He isn't Zgonina's first heavyweight animal companion either.
Something you may not realize about the Washington Commanders coach, whose 17-year NFL career included winning the Super Bowl XXXIV with the St Louis Rams in 1999, is his competitive interests now extend beyond the gridiron. These days he's also chasing silverware as a dog handler.
This passion began a few years after he retired from his playing career in 2010. Following countless calls from his young kids to get a puppy, he sat down with them to watch an Animal Planet show which featured Neapolitan mastiffs.
"I said, 'If I ever get a dog, it'll be that one,' " Zgonina told The Washington Post. "I liked the way it looked. It was big. So I went online looking for dogs and found one in Ohio, not knowing anything about dogs. I bought the dog online, and a week later I went and picked it up."
While picking the pup up, the breeder asked if he planned to keep him as a pet or make him a show dog. On hearing this, the ever-competitive Zgonina found himself intrigued - he hadn't considered vying for titles with his canine friend before. And so, the seed was sown, and he enrolled himself (alongside the newly-named Nook) in dog handling classes back in Houston.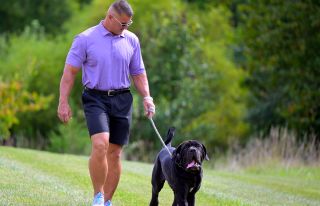 The pair made their debut in 2014 in a national show for Neapolitan mastiffs. And, while Zgonina described the experience as a "trainwreck" in a 2016 NFL Films documentary, he emerged ever-more determined to rise to the top. The now 53-year-old acquainted himself with fellow handlers who shared their experience and know-how to help him progress - as the defensive linemen coach does on a daily basis in his current coaching role.
From there, he took every opportunity he could to show Nook, another mastiff called Lulu, and his Staffordshire bull terrier, Caz. Dedicated as ever, Zgonina would even show other handlers' dogs (regardless of size or breed) to gain more experience in the ring. )In a recent sit-down with The Washington Post he estimates he has accrued around 80 shows, including several wins and some close-cut title fights.)
Sadly, Nook passed away in 2020 and Lulu died aged just 19 months - both due to heart issues. It was only this year that Zgonina filled the (very-large) mastiff-shaped hole in his life. He met Hank for the first time in March and the pair have been putting in the hard yards to ensure they're competition-ready. They even managed to squeeze in a show in Maryland during the NFL off-season where Hank took the top spot. Admittedly, he was the only Neapolitan mastiff to be shown, but a win is a win… Here's to many more!
Get the best advice, tips and top tech for your beloved Pets
Having grown up on farms in rural south west England, there has rarely been a moment in Harry's life when his home hasn't been filled with a cacophony of animal noises. From dogs, cats, hamsters and rabbits to chickens, goats, tortoises and a particularly mischievous lamb, he has always enjoyed being surrounded by a wide variety of pets. Currently, he enjoys living in the (comparatively quiet) company of his one-year-old cavachon, Archie. As a writer, he started his journalistic career in 2018 as a reporter earning bylines in more than 70 regional and national UK newspapers over the next three years. After this, he began writing for magazines, producing features and reviews for titles including Men's Health, Good Housekeeping, Elle and Esquire.