Couple sets up free puppy café to spread positivity during the pandemic
Oshawa Puppy Café even has special holiday-themed booths outside the founder's home in Canada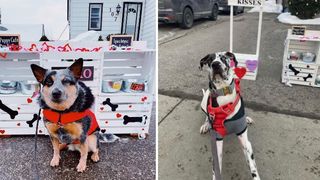 (Image credit: Instagram / @roxie__rottweiler)
In April 2021, a free puppy café offering pooches free treats - called the Oshawa Puppy Café - opened outside the home of local resident Amy Gaudette and her fiancé.
Beginning as a modest initiative, the couple initially left out tins of treats for dogs that walked by, in an effort to combat Covid-19 lockdown blues in the neighborhood.
"We started the Café last April as a way to spread some kindness and positivity," Amy explained.
"Myself and my fiancé were out of work because of the lockdowns. We were just tired of seeing so much negativity on our social media! We are both animal lovers and wanted to give back to our community in a small way."
As its popularity grew, the concept then became a photo opportunity with the couple creating a stall and setting up an Instagram account so dog owners could tag themselves at the café.
The Oshawa Puppy Café is open for tasty treats - including homemade canine delights made by Amy on special occasions - almost every other day. Since opening, they have served almost 4,500 free treats!
"Everything is free but lots of people donate to our cafe - we've even had two dog food companies send us free treats".
Amy continued by saying that "Financially it's been a tough two years on us so we greatly appreciate all the love we have received".
But the café hasn't just kept the local pooches happy and fed. They've also been able to achieve their mission of spreading positivity, too!
"I receive DMs daily saying how much people enjoy our café and how their dogs get excited when they get on our street," Amy shared proudly.
"I've received thank you notes and printed pictures of their pets! I love it so much. I've been told by many that I've brought so many smiles to our neighborhood."
This year, Amy is planning on offering special holiday-themed events, including a Valentine's Day kissing booth and a number of other holiday-themed photoshoots.
To ensure the continued success of the café, the community has offered their support and services for these future projects, such as creating the necessary woodwork and custom signage.
Get the best advice, tips and top tech for your beloved Pets
Chloe is a freelance writer, editor, and proofreader, who has more than ten years' experience in creating animal-focussed content. From National Geographic to Animal Planet, Chloe's passion for creating fact-filled features all about wildlife and the environment is evident. But it's not just wild animals that Chloe's fascinated by. Having written more than 75 articles for PetsRadar - and having her very own four-legged friend by her side - it's no wonder that her love of dogs (and, of course, cats) has grown exponentially.
Her website, www.chloemaywrites.com, and social media pages - @ChloeMayWrites on Instagram, Facebook, and Twitter - showcase her knowledge through daily facts and trivia tidbits. For example, did you know that snails have teeth?!