Gentle giant! Massive mastiff is the perfect playmate for two little girls
South African Mastiff Barney has won hearts worldwide after adorable images of him with his two "little sisters" went viral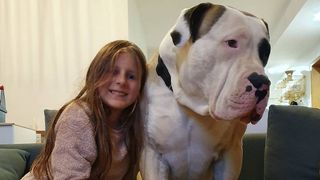 (Image credit: Phil Smith, Facebook)
When Phil Smith shared pictures of his South African Mastiff next to his two children, you could clearly see how big this dog actually is.
Shown playing with six-year-old Winnie and 12-year-old Maisie - and dwarfing them both - the images have certainly made for adorable viewing.
They're so amazing, they've amassed 18,000 likes so far as well as more than 1,100 shares and 2,600 comments, ensuring the images quickly went viral!
What's more, two-and-a-half-year-old Barney and the two sisters have become inseparable since being introduced to the family. And he has no problems goofing around – happily sporting a cool set of pink, heart-shaped sunglasses in one of the images.
Phil, who posted the images on Facebook and captioned the photos, "Barney-boy the world's goodest boy", also says the South African Mastiff (or Boerboel) is good friends with the family's four cats and a Border Collie.
"He's so gentle, he can play off-leash in the local park, although he will be protective of his family at home", Phil adds.
As you can imagine, Barney has done down a storm online. "Oh I am in love!!!!", wrote user Christina Conley, while Nicola Hume added: "He's a perfect big beautiful baby!!!".
In a later photo, Barney is also shown taking up the whole bed, again showing his sheer size (he weighs 176 pounds (80 kilograms).
And yet Barney isn't unique. Boerboels grow to an average of 27-inches (70 centimetres) in height and they are known for being big and strong.
When treated correctly and brought up in a loving, caring household, they are also fantastic family dogs although they sure need a lot of exercise which means they are not the best large dogs for apartments!