I got a GPS tracker for my dog and it changed our lives
PetsRadar writer Sara Walker and her canine companion Olly found their walks were revolutionised with the addition of a GPS Tracker for dogs. Here's how…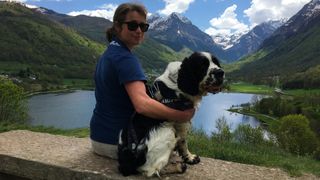 (Image credit: Michael Clarke)
Human activity trackers and apps are very much a thing now, and you'll often see office colleagues taking the stairs instead of the elevator to 'get their steps in'. But it's not just us two-legged folk who can benefit from these nifty little devices. Thanks to modern technology, the best pet trackers have gotten better and better in recent years, meaning that your pet can now reap the health and wellbeing rewards too.
Giving your dog sufficient exercise is vital for maintaining a healthy weight and reducing behavior problems, but it can be hard to keep track of. I recently invested in a GPS tracker for my English Springer Spaniel Olly, which monitors activity levels, number of paces and distance covered from my smartphone. Now, I can reduce or increase food and treats according to energy levels – and it sends helpful reminders if we haven't been active enough!
The original decision to get a GPS tracker was born of panic. On holiday in France, I watched my lively and inquisitive dog shoot into the forest in pursuit of a squirrel. I was acutely conscious that he might just keep going until he reached the Spanish border, a mere 70 miles away. That evening, although Olly had come sauntering coolly out of the forest after only 15 minutes with a proud flourish of his tail, I decided I had enough gray hairs and invested in a Kippy.
The Kippy claims to be the first device to monitor both physical location and activity levels (others are now available). It uses cellular technology to link the app on your smartphone to the device worn by your pet. As well as providing much-needed peace of mind, it also comes with a benefit I hadn't expected to use much – the ability to see Olly's activity levels. In fact, it's revolutionized our outings!
I've used my own step counter for years and find it motivating to see my steps build up throughout the day, but Olly's is more sophisticated. The device measures the number and minutes of walking, running and playing exercise as well as allowing you to map his route – which is sometimes quite different to mine! If we haven't been active or if I haven't had the device switched on for some reason, Kippy will text me suggesting we both 'get off the sofa and go for a run' – so we do!
There are some drawbacks to this neat little piece of kit. An active, curious dog, Olly loves to dive through hedges and into undergrowth and the harness supplied with the unit couldn't keep up. The solution for us was to attach the device firmly to his normal harness – which we refer to as his 'adventure suit' – with cable ties. This makes removal for recharging a little complicated, but has otherwise worked well.
Coverage is good but not guaranteed, as both the unit itself and your smartphone need to have a signal – not ideal in thick forests. At some point he has to come out though, right?! It can also be quite draining on the phone battery, but if you want to use it only for location purposes rather than activity tracking you have the option of only turning it on when you need it.
In a way Olly's diet is already tailored to the amount of exercise he gets, as the longer the walk the more treats he's offered. It's very useful to know, though, that even though we might have been for a longish walk he's taken it easy and not done much running, or vice versa. I also find the texts useful – although on one memorable occasion, having returned from a 12-mile walk when I'd accidentally left my phone at home, I was not happy to receive a text telling me that Olly's exercise levels were too low!
Although Kippy is currently only available in Europe and South Africa, there are now lots of other devices on the market. If you're planning to take your furry friend's fitness in hand, you'll be spoilt for choice. Now, it's time to get up and go for a run! What are you waiting for?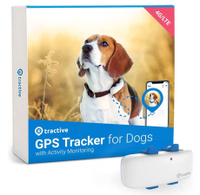 Tractive GPS Dog Tracker
RRP: $49.99
Tractive is a popular choice of GPS tracker and activity monitor. Lightweight and waterproof, it works in the USA, Canada and 150 other countries. You will need to purchase a subscription to access the best features, but you can try the Tractive risk free for 30 days with a money back guarantee.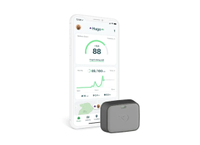 Whistle Health & GPS
RRP: $149.95
The combined Health & GPS Whistle allows you to set fitness goals for your pet. It updates every 15 seconds and includes free access to veterinary expertise. Available in three colors, it's suitable for dogs 25lbs and up and comes with a 1-year warranty.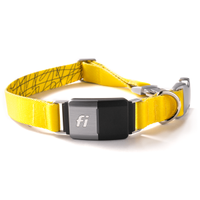 Fi Smart Dog Collar
RRP: $149.00
The Fi tracking and activity monitor is built into a dog collar. It uses three constellations of satellites to maximize the tracking speed and accuracy of the tracking for precise results. It also has a 300lb pull resistance and a 3-month battery life.
Get the best advice, tips and top tech for your beloved Pets
Sara is a freelance journalist and copywriter of many years' experience with a lifelong love of animals. She's written for a range of magazines and websites on subjects varying from pet care to travel. A horse rider since the age of five, she's currently a full time pet slave to horse Blue and gorgeous, goofy English Springer Spaniel Olly. Adorable Olly has a huge sense of adventure and no sense of direction, keeping Sara on her toes.