How to have a fabulous time camping with a dog
Camping with your dog in the great outdoors is fun and rewarding for both of you. Our guide has tips on how to prepare and make it work in the wilderness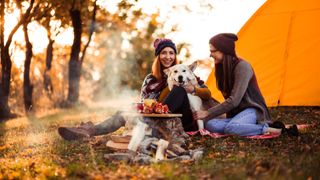 (Image credit: Getty Images)
Camping is a great way to spend some much-needed vacation time with your furry friend. Not only do they love to explore new environments, but they also get to stay up close and personal with you 24/7, and there's nothing they like better than a little (or a lot) of bonding time with their favorite humans. Of course, they're also likely to make lots of new friends on the way too.
Our guide has tips on everything you need to make your camping experience hassle-free, from getting the best dog car harness for your trip to ensuring your dog's vaccinations and microchip details are up-to-date. We've even got a checklist on what to pack for them.
Ensuring your dog is safe and comfortable while camping is essential, so plan ahead with activities, check local regulations and prepare for all weather conditions. Our expert guides on sunburn, burned paws and mosquito bites will help you get started.
Can you take a dog camping?
You certainly can take a dog camping – in fact, adding your furry pal to the mix often improves a camping trip no end! There are lots of things to think about to make sure you both enjoy your vacation. Start with your dog's personality – is he curious, bold, adventurous and with a nose for exploration? He'll love it. Is he very nervous in new situations and gets anxious when his routine changes? He may be better left at home with a pet sitter.
Finding a dog-friendly campsite
Once you've made the decision to take your dog camping, there's lots of choice. Many national parks and forests allow dog-friendly camping, as well as state, county and regional parks. You've also got the option of private campsites.
Most national parks allow dogs, but check up on the policy before you go. Some authorities, such as the U.S. National Forest, allow dogs on all their sites but insist on them staying on the leash.
Private campsites will have their own policies. To find the perfect site for you and your dog, ask for recommendations from friends or dedicated social media groups. If you know which state you'd like to visit, you can often find information on official tourist websites.
Tips for traveling with your dog
Traveling with your doggo can be almost as much fun as arriving at your destination – at least someone is enthusiastic about the trip! It does need a little preparation, though.
If you're traveling a long distance, you're going to want to make sure that your dog is happy and comfortable in the car. A five-hour journey is not the time to discover your pooch gets carsick. Practice beforehand if necessary.
Pack plenty of food and water and schedule rest stops. Take care when letting your dog out at gas stations in case he panics and runs into traffic.
Make sure your pet's microchip and collar tag details are up to date with a cellphone number.
Your dog will need to be secured in the car rather than free-range for safety reasons. You can either use one of the best dog crates, put him in the trunk with a special dog barrier or use a car harness.
What does a dog need when camping?
Taking your dog away is fantastic but can mean double trouble if you're not organized. Make up a checklist for your pooch's packing so you don't forget anything.
Bowls – for feed, water and a folding/lightweight option for trail hiking.
Food and treats – over-estimate the amount you'll need as it's inconvenient to run out mid-trip. Our guide to the best dog treats has plenty of great options.
Bedding – bring along your dog's normal blanket or soft bedding. It might be a good idea not to wash it for a few days prior to the trip, as his own scent will help him settle in a strange place.
Toys – one or two of the best dog toys that are favorites for your pup will help him feel at home.
Leash– some campsites will insist on your dog being leashed all the time. Take along at least two leashes just in case. It can also be a good idea to have a longer leash than usual in case you have to tie up – see our choices for the best dog leashes.
Vaccinations – before traveling, make sure your dog is up to date with all vaccinations such as heartworm and rabies. It's also worth checking if you need anything extra, such as Lyme's disease vaccinations which you'll need for certain areas. If you're not sure, check with a local veterinarian.
Grooming brushes and towels – having one of the best dog brushes packed and at the ready can be handy because if there's mud around, some dogs will find it!
Doggy gear – protective boots, rain coats and drying coats depending on your trip.
First aid kit – containing antiseptic, dressings and tick removal tool.
Poop pick-up bags – the majority of campsites insist on a full clean-up.
Medication – remember to bring any tablets that your dog is taking.
Where do dogs sleep when camping?
If they're in a strange place, most dogs will want to stay with you. If you're in an RV, you can take their normal bed along and put it where they can see you, but for those of you sleeping in a tent, you'd better resign yourself to spending the night with your fluffy compatriot.
If you've got enough space in your tent, you might be able to create a temporary dog enclosure – take a look at our suggestions for the best dog playpens to see if one of those might fit in your tent. Most campsites don't allow dogs to be left unattended in tents (RVs are normally fine), so you'll need to factor that into any arrangements.
If you have a laid-back pup, you may be able to leave him in the car overnight. However, you'll need to make sure that the vehicle doesn't become too hot or too cold and is well-ventilated. It should also be parked where you can see it easily and reach it quickly.
Whatever you decide, it's worth having a trial run to get your dog used to the new sleeping arrangements. Try pitching the tent in your backyard before taking a full-on road trip, or take an overnight vacation in your RV.
How to keep a dog warm or cool while camping
Depending on the time of year, you'll need to think about how to keep your doggo feeling comfortable. If it's a cool season, take along a drying coat for wet fur and plenty of towels and blankets. You can also invest in a heat pad. While some of these need to be warmed in a microwave, others are backed with foil and will use the dog's own body heat to generate warmth. If your dog's a swimmer, dry him off as quickly as possible and keep a close eye on him.
In warmer weather, use a cool bandana or cool coat to keep temperatures down. These are made of a special material and can be soaked in water which then evaporates with a cooling effect. Never make your dog exercise hard in hot weather and carry a dog water bowl and water with you when hiking. Check out our guide to how to cool down a dog for more tips.
What to do with your dog on a camping vacation
The number one suggestion here is hiking and swimming. Check out local rules for hiking trails before you set off to make sure you both enjoy your day. Depending where you go, hitting the beach or taking a boat trip could score highly on the canine satisfaction chart. Older or more sedate dogs will often enjoy short trips out in the car as well as outdoor meals and games.
Tips for camping with an anxious or aggressive dog
If your dog has behavioral issues, it can make vacationing a little tricky. While that's not to say you definitely shouldn't take him along, it does need some preparation.
Select your campsite with care and choose one that's not going to be too busy. Try to avoid a place with too many young children who may not always respect your dog's boundaries.
Accustom your dog to traveling and new environments with lots of short stay trips before the big event.
Anxiety can sometimes appear as aggression if your dog feels threatened. Keep him on a leash so that you can explain to anyone who wants to pet him that he may not appreciate it.
While some campsites may require you to keep your dog on a leash at all times, others may provide an exercise field or off-leash trail. While it's lovely to see your dog running free and having fun, make sure he'll come back to you if necessary – other people may not be impressed if he runs through their picnic! Practice at home with tasty treats until you're confident of being able to round him up.
How to have a trip you'll both remember
With a little careful preparation, you can both have the trip of a lifetime when camping with your dog. If you're off hiking the trails with your doggo, how about investing in a GoPro camera and harness to capture the canine point of view? Tailor your trip to your dog's temperament and abilities, and you'll be making memories to treasure forever.
Get the best advice, tips and top tech for your beloved Pets
Sara is a freelance journalist and copywriter of many years' experience with a lifelong love of animals. She's written for a range of magazines and websites on subjects varying from pet care to travel. A horse rider since the age of five, she's currently a full time pet slave to horse Blue and gorgeous, goofy English Springer Spaniel Olly. Adorable Olly has a huge sense of adventure and no sense of direction, keeping Sara on her toes.