Best dog leashes: Keep your pooch safe and under control
The best dog leashes make the perfect choice for everyday walks, jogging and training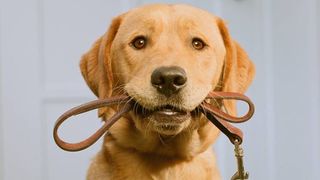 (Image credit: Getty Images)
A walk in the park, a jog around the neighborhood, a hike in the woods. Whatever activity you love to do with your pet pooch, the best dog leashes ensure that they stay safe and you can keep them under control when you need to.
At the very least a good dog leash needs to be strong, durable and functional for everyday use. You need to think about the maximum load the lead can take and what length you need. If you have a large breed like a Great Dane you need to make sure that your chosen leash is up to the task.
Get the wrong load and it won't be long before it breaks and your fur baby runs off into the distance. At the other end of the scale you don't want a big thick lead weighing down your toy breed when out for a walk. So it's critical you choose a leash that matches your dog's weight.
Typically your everyday walking lead is around six feet, but if you are leash training your dog or are in a particularly busy area, you should think about getting a shorter lead to give you more control over your canine.
But you might want something beyond the basic features. Try a bungee style leash for flexibility and comfort, or think about a hands-free leash for when you go running or hiking. What if you got two dogs? A dual leash extension is a great way to keep both under control with just one hand.
Whatever you and your fur baby need, our guide will help you choose the best leash for you and your dog. Be sure to check out our guide to the best dog harnesses too if you're looking for both great control and all-round comfort for your pooch.
PetsRadar's pick of the best dog leashes
Why you can trust PetsRadar Our expert reviewers spend hours testing and comparing products and services so you can choose the best for you. Find out more about how we test.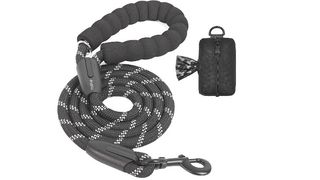 iYoShop 6 FT Strong Dog Leash
Length: 4 ft, 5 ft, 6 ft | Material: Nylon | Weight: X | Load: Up to 150 pounds | Color(s): Black, Blue, Green, Pink, Emerald, Royal Blue
Strong, tough and durable
Ideal for all dog breeds up to 150lbs
Six colors
Reflective stitching
Two lead lengths
Not chew proof
If you want a strong, tough, durable dog leash that is built to last and can cope with dog breeds from 0-150 pounds then you really need to be taking a look at this top quality dog leash from iYoShop.
There's no messing about here. This nylon rope–inspired dog leash has based itself on mountain climbing gear so you know it's going to be tough and long-lasting. The manufacturer claims it could be the only leash you'll ever need. And they may well be right when it comes to straightforward everyday use.
So what do you get? The leash comes in three different sizes and a host of colors, so not only do you get a rugged leash, but six cool colors to choose from. The extra small is the perfect choice for toy breeds with a maximum load of eight pounds and five feet of lead.
The next size up - small - sticks with the length but ups the maximum load to 25 pounds. Heading into the medium and large sizes you get a bit more variety. Keeping up the super strength theme is a one inch thick lead with an impressive maximum load of 150 pounds. That's strong enough for large and extra large breeds such as Mastiff, Newfoundlands and Great Danes. And you have the choice of a six or four foot lead length.
A super strong clasp ensures that your pet pooch isn't going to break away and the sturdy stitching is neatly covered inside its own casing to add extra strength. A thick soft padded handle adds comfort and stops the leash digging into your hand when your fur baby is pulling. And a velcro attachable zipper pouch is perfect for storing keys and carrying poop bags when out and about.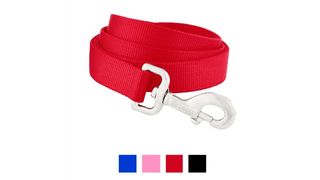 Frisco Solid Nylon Dog Leash
Length: 4 ft, 6 ft | Material: Nylon | Weight: N/A | Load: Up to 80 pounds | Color(s): Black, Red, Pink, Blue
Budget friendly price
Great no nonsense everyday lead
Choice of lead length
No padding on handle
Not for breeds over 80 pounds
This budget busting dog leash brings with it all the basic features that you need in an everyday lead, but without having to spend big. A durable and functional dog leash, it is made from a strong high-quality, woven nylon material and boasts a nickel-coated clip and simple integrated handle that means it can take the strain without you having to worry about it breaking.
There are not a lot of frills with this lead - you get what you pay for - but what you do get works well. The leash is available in six different sizes ranging from extra small right through to large, making it an ideal choice for dogs up to 80 pounds. Ideal for Airedale Terrier, German Shepherds, Boxers and similar breeds, but nothing larger than these.
Each size in the range is different so you will need to choose what suits your fur baby and your needs best. The XS and Small are both six foot in length, but the Small has a wider lead ⅝ inch lead, so you might want to go for the extra width and load to put less strain on the lead.
Going up the scale the Medium size has a three quarter inch wide lead, but comes in four and six foot lengths. The six foot works well for everyday, while the four foot is a good choice for close control when training.
The Large ups the lead width to one inch so it can take a bigger load, and again it comes in both four and six foot lengths, so you can choose which works best for you. But at this price point you can afford to invest in both.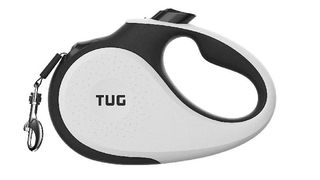 TUG 360° Tangle-Free, Heavy Duty Retractable Dog Leash
Best retractable dog leash
Length: 10 ft, 16 ft | Material: Nylon | Weight: 12.7 ounces | Load: Up to 110 pounds | Color(s): Black, Blue, Green, Grey, White, Red
Four different sizes
16ft leash length
Ideal for breeds up to 110lbs
Not chew proof
Want to give your pet pooch more fun and freedom when out on a walk, but also want to keep control at the same time? Then a retractable leash is a great choice. Even if your pet pooch disappears out of sight you still have them on the leash. You can stop them going any further and slowly reel them back in when needed.
The TUG 360° Tangle-Free, Heavy Duty Retractable Dog Leash is made for most dog breeds. It comes in four different sizes ranging from Tiny through to Large. The extra small is the perfect choice for breeds under 26 pounds like Bichon Frise, Boston Terrier and Chihuahuas.
But being smaller in size it only has a ten foot leash. The three other size options all come with a longer 16 foot leash. The small being suitable for breeds up to 35 pounds and the medium is for dogs unders 55 pounds. The large accommodates dogs up to 110 pounds making a good choice for German Shepherds and similar, but no good for Great Danes and other extra large breeds.

While the strong nylon leash can cope with the strain of whatever breed you buy it for, it's not heavy duty enough to cope with a lot of chewing. But hopefully your pet pooch will be enjoying its new found freedom too much to want to chew.

Keeping the leash - and your dog - under control is a tough ABS casing which comes with an anti-slip comfort handle to give plenty of grip. While a strong Japanese steel coil makes sure that you get reliable refraction via the easy to use lock and brakes system.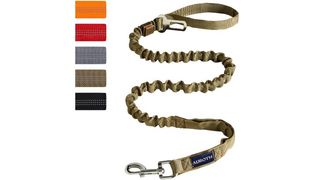 AUROTH Heavy Duty Bungee Dog Leash
Length: 4.5 feet, 5 feet | Material: Nylon | Weight: 6.24 ounces | Load: N/A | Color(s): Army Yellow, Black, Grey, Orange, Red, Blue Camo, Desert Camo, Woodland Camo
Shock absorbing design
Two sizes
Double padded handles
Reflective stitching
Not ideal for really large breeds
Do you have a dog that likes to pull? Is your pet pooch always straining at the leash? Do you think you are hurting your fur baby's neck? If this sounds like you then this heavy duty bungee style leash is one for you. Its anti-shock elastic design means that it optimizes comfort and safety for both you and your dog. Every time your pooch pulls it lessens the strain on their neck, and it lessens the impact on your arm and back.
Made from a heavy duty high quality nylon the leash is available in two different sizes and nine different colors. The shorter 4.5 feet leash has a variable length from 106 cm to 137 cm and is a good choice for small and medium breeds. The longer 6 foot leash takes over where the smaller left off and expands from 137cm through to 185cm making it the better choice for large medium breeds and large breeds.

The nine available colors don't stretch to both sets of leashes. The six foot option is available in all colors but the shorter leash is only available in five different colors with one camo option.
To help keep control of your pet pooch when out walking or training the leash incorporates two padded handles for ease and comfort. The top handle is for everyday use while the bottom handle allows you to take almost complete control when in busy areas or near other dogs. If out at night reflective stitching helps you get seen.
A metal 360 degree rotating clasp attaches the leash to your dog's collar and not only eases the strain on the leash but also stops it twisting and getting tangled round their neck.
A smart addition is the inclusion of a seat belt buckle which fits into most cars. Not only does this keep them safe and secure when travelling, but it also means you don't have the hassle of purchasing a separate safety leash just for your vehicle.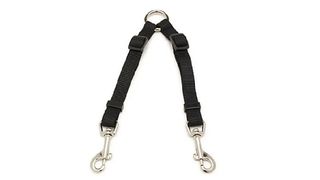 Petmate Take Two Adjustable Leash
Length: 8 inches | Material: Nylon | Weight: 2.4 ounces | Load: N/A | Color(s): Black
Works with any dog leash
Adjustable straps
Double dog leash
Made from strong durable nylon
No use for a single dog
Have you got two dogs but want to keep them on a single leash when you are out for a walk? Then this specially designed dual dog lead could be just what you need. You can say goodbye to tangled leads and having both hands occupied when out with two of your fur friends. This Takes Two leash turns your everyday single leash into a Y-shaped, dual dog leash with a tangle-free swivel joint that's perfect for two of your pet pooches. If you are feeling brave - and have more than two dogs - you could double up and take four dogs for a walk with just two leashes.
A single steel ring takes the strain with two adjustable straps attached to the ring. This means that you can add any single leash you already own and just clip each 'mini' leash onto your dog's collar.
They are both made from strong durable nylon with some heavy stitching to take the strain. Both are adjustable via a plastic buckle that is functional rather than fantastic. But this does mean you can adjust independently to get the perfect fit for both dogs on the leash. At their shortest the leash is around five inches but can be stretched out to around 8 inches.
It does work with two dogs of contrasting sizes, It doesn't have the strength or length for large dogs. But it does make a good choice for medium dogs and smaller dogs.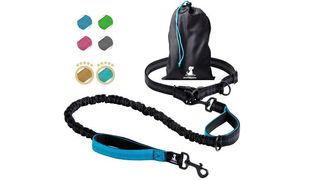 SparklyPets Hands-Free Dog Leash
Best hands free dog leash
Length: 4.2 - 5.6 feet | Material: Nylon | Weight: 10.4 ounces | Load: N/A | Color(s): Blue, Brown, Green, Gray, Pink
Adjustable waistband from 28-47 inches
Hands-free
Bungee style leash
Two hands grips for extra control
Not ideal for large dog breeds
If you like to go hiking, running and jogging and want to take your fur baby with you this hands-free leash could provide the perfect companion for you and your dog. Specifically tailored for medium to large dogs the adjustable waistband will fit around the midriff of most pet owners. Its smallest waist size kicks off at 28 inches, but it does expand to a maximum waist size of 47 inches. That's most dog walkers, runners and joggers covered.

A snap-in buckle makes it quick and easy to attach around the waist while two stainless clasps sit above the buckle ready to attach to the lead. The double clasps equally balance the waistband so it doesn't dig into one side and they are strong enough to keep your pet pooch under control.

A shock absorbing bungee style leash attaches to the waistband and your dog's collar using secure easy to operate dog clips. The lead helps reduce pull shock - when your dog unexpectedly tries to run off - and means less stress on their neck.
To make sure that you can take control of your furbaby when needed the lead comes with two easy grip control handles - one at each end of the lead. You can use the one nearest your fur baby's neck for complete control and the other handle as you would a normal lead.

If you don't fancy running or jogging you can just use the lead for an everyday walk. Reflective strips make sure you get seen at night and a handy storage bag for the waistband is included if you decide you don't want to stay hands-free when you're out and about.
How to choose the best dog leash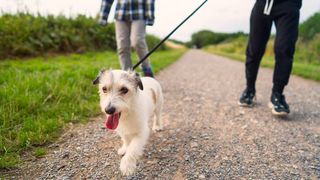 Type of leash
There are a host of different dog leashes so you need to pick one that best suits your breed. A standard six foot lead is a good choice for everyday use and training. These are typically made from nylon and leather and are strong enough for most breeds.
If you want to give your pet pooch a bit more freedom you can try a retractable leash. You can choose how far your dog can go before stopping them. These are better suited to smaller dogs.

Bungee type leads allow for a lead to stretch and retract meaning that their will be less stress on your dogs neck. Other leads include the double if you have two dogs you want to walk on one lead to help keep them under control. A hands-free option is a good option if you like to run and not have to worry about keeping hold of your fur baby.

Width and load
The width of leash typically equates to how strong it is and what sort of load the lead can withstand. A thinner leash is much less likely to be able to take the strain that a thicker leash can. If you have a larger breed of dog it makes sense to have a thicker lead that can withstand the load of a heavy dog. But if you have a smaller dog look for a thinner lead that is not too heavy for their size.
Length of leash
A shorter leash gives pet owners more control over their pet pooch. A three to six foot lead is ideal for everyday use and training. Obviously the smaller length is ideal for a smaller dog while the longer length is better for a bigger dog for most occasions.
But if you are training your dog to walk by your side and/or out in a busy street, you might want a shorter three or four foot lead so you keep control. Alternatively, you can wrap a six foot lead around your hand to whatever length you want.
Get the best advice, tips and top tech for your beloved Pets
Steve Jenkins is a freelance content creator and long-time journalist with more than 20 years in the industry. He has written for numerous titles covering tech to pets, with his latest faithful hound always by his side. When not walking his dog, or discussing who's best - cats or dogs? Loud guitars, AFC Bournemouth, Photoshop, and trying to save the world take up the rest of this time.