German Shepherd's early bird Halloween costume has everyone smiling
This cute German Shepherd is getting ahead of himself with a fun Halloween costume for the forthcoming spooky season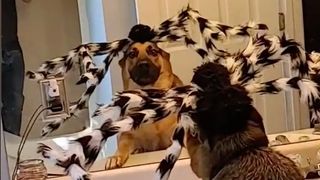 (Image credit: TikTok/brandonandstorm2)
Spooky season may still be weeks away but one dog is already getting into the spirit of the occasion. A German Shepherd called Storm has been videoed wearing a cute Halloween costume – and he appears to love the spider get-up so much, he can be seen admiring himself in the toilet mirror.
Attracting more than 1.6 million likes and close to 85,000 shares on TikTok, Storm looks mightily bemused with one of the best Halloween costumes we've seen, but not as much as those watching.
With the dog's owner brandonandstorm2 stating, "Spooking season is near!", the comments have been rolling in. "Idk what's funnier," wrote Ashley Stuhlman. "The dog or the fact that you're standing in the tub filming it all'.
Other comments observed how cute Storm looked with Izzy<3 writing, "I like the new hairdo".
The account has proven to be hugely popular with 433,500 followers so far and 25.3 million likes for the dozens of videos that have been posted.
But while we fully expect to see lots of similar videos over the coming weeks given how many spooky items there are for dogs, including the best Halloween dog collars, this one definitely had us tickled.
Then again, German Shepherds are popular pets, known for being loyal intelligent and loving with a high level of confidence.
As an active and energetic breed, they also seem up for a laugh as a sizable chunk of the Internet is discovering.
Get the best advice, tips and top tech for your beloved Pets
David Crookes has been a journalist for more than 20 years and he has written for a host of magazines, newspapers, websites and books including World of Animals, BBC Earth, Dogs and Canines, Gadget and The Independent. Born in England, he lives in a household with two cats but he's also keenly interested in the differences between the huge number of dog breeds — in fact, you can read many of his breed guides here on PetsRadar. With a lifelong passion for technology, too, he's always on the lookout for useful devices that will allow people to spend more time with their pets.