How to throw a Halloween party for dogs
Activities, games, decor, and more that will help you create the best Halloween party for dogs and humans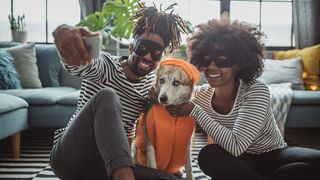 (Image credit: Getty Images)
Spooky season is upon us and if you want to throw a Halloween party for dogs, we've got all the tips, tricks, and treats to make it happen.
Halloween parties can be for dogs and humans, and there's a ton of great stuff to grab that can make your party the best no matter who is attending. There are dog-friendly treats like Halloween advent calendars, games that will keep pups and people entertained, costumes that will have everyone laughing, decorations that are spooktacular, and much more.
If you're planning a Halloween party for dogs (and people), consider this your one-stop shop for game ideas, costumes, decor, and more.
Dog-friendly activites
You'll want to make sure that both pups and people enjoy your activities at your Halloween party, so you might want to leave out anything that involves eating actual candy, avoid leaving anything chewable or breakable around, and hold the party in a space that's open and easy to clean.
A costume parade is a great way to show off your dog's Halloween look. You can get really creative here, with people dressing up to either match or compliment their dog's outfit. A cop and a robber, two vampires, Thelma and Louise - you name it, there's a way to pull it off! Call everyone's attention and give the participants a chance to strut their stuff around the room, then give your guests two votes to dole out (don't let them vote for themselves) and tally the winner! You can even have prizes for the top places.
You can also hide treats around the house before the dogs show up for the party and send them on a trick-or-treat hunt when they arrive! Another great idea is to set up a dog-friendly photo booth so that your guests and their furbabies can take spooky pictures! Get a spooky backdrop (either a tablecloth, blanket, or make your own out of cardboard) and get a nice Polaroid camera (like an Instax) to take quick pictures that people can take home with them!
Dog-friendly Halloween treats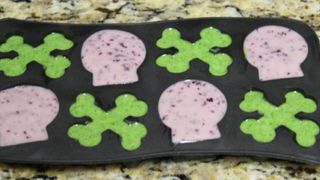 A hard and fast rule is no people candy or treats for dogs! Chocolate and other ingredients in popular Halloween candy is not safe for canines, so keep them out of reach. We have a list of 5 delicious homemade Halloween dog treats that can make your party spectacular from pumpkin spice dog treats to frozen skull and crossbone yogurt snacks.
AKC also provides three different recipes for DIY pumpkin treats that will be an absolute hit at your Halloween party for dogs. You can do frozen pumpkin treats, peanut butter and pumpkin treats, or banana pumpkin treats. Or all three, if you're feeling really ambitious! Pumpkin-flavored dog treats are festive and safe, and a great way to make your Halloween party for dogs extra special.
Halloween party for dogs decor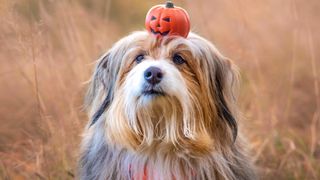 If you want to decorate your house with dog-themed Halloween decor, there's tons of options for you! Check out our cat and dog pumpkin carving ideas for some cool pumpkins you can carve before the party, or grab a skeleton dog Halloween decoration from Amazon. There's even a giant inflatable witch hat-wearing dachshund you can put on your front lawn to usher partygoers in with flair. You can also just decorate your house for Halloween - it's not like the dogs will notice the difference!
Halloween-themed dog toys
There are so many great Halloween-themed dog toys that you could scatter around the party space or give out as party favors. Chewy has some fantastic dog Halloween toys like glow-in-the-dark chewy bones, bat squeakers, skeleton rope toys, and much, much more. There are pages upon pages of Halloween-themed dog toys on Chewy and elsewhere, and you can buy them to give away as gifts to the attendees - or the winners of the dog costume contest!
Get the best advice, tips and top tech for your beloved Pets
PetsRadar is a website dedicated to providing expert advice for happier pets. Whether you're a parent to a dog, cat, reptile, horse or rabbit, PetsRadar offers a pathway to healthier pets and happier owners through our unique combination of trusted advice, expert guides and in-depth reviews.