7 Halloween dog treats that are frightfully easy to make
Boo appetit! These tasty Halloween dog treats have something for every canine companion, from scary skulls and spiders to ghoulish ghosts and gourds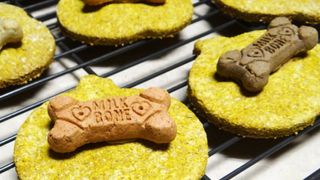 (Image credit: Rural Mom)
What better way to involve your canine companion in spooky season than to whip up a batch of Halloween dog treats? From spiders to skulls and pumpkins galore, these treats are playful, nutritious and best of all, delicious.
One of the things we love most about Halloween dog treats is that they can be a great alternative if you're wanting to involve your pup in all the festive fun of this popular holiday but don't fancy decking them out in a Halloween dog costume. With treats, you can go as outlandish as you want without having to worry about the potential safety risks that costumes can pose.
When it comes to the best dog treats to feed your pup, of course there are plenty of high-quality options lining the shelves, but taking some time to make a batch of holiday-themed homemade dog treats is a great way of elevating these doggy favorites to something truly special.
To help you get those creative juices flowing, we've scoured the Internet to bring you all of our favorite Halloween dog treat recipes. So, what are you waiting for? Whip out those mixing bowls, grab that spatula and don your apron, because it's time to get baking!
1. Pumpkin spice dog treats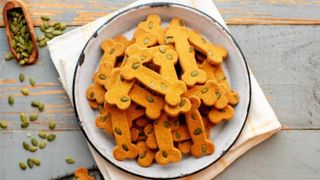 Ingredients:
5 tablespoons vegetable oil
3 teaspoons xanthan gum
1½ cups canned pumpkin puree
1 cup unsweetened applesauce
4 eggs
1 cup cooked sweet potato, mashed or riced
4 teaspoons pumpkin spice
2½ cups coconut flour
1½ cups rice flour
1½ cups almond meal
Raw pepitas
Method:
In a large mixing bowl, whisk together the oil and xanthan gum.
Add in the pumpkin, applesauce, sweet potato, eggs and pumpkin spice and whisk until smooth.
Fold in the flours and almond meal with a spatula and then knead with your hands until the dough is thoroughly mixed.
Shape the dough into a couple disks and cover in plastic wrap.
Chill dough for at least 4 hours or overnight.
Preheat oven to 250F
Roll dough out to a thickness of 1/4 inch between two pieces of parchment paper.
Cut out shapes using a cookie cutter.
Place cutouts on parchment lined cookie sheets.
Bake for two hours, rotating the pans every 30 minutes.
Turn the oven to a warm setting and open the door slightly to vent.
Dry dog treats until they have a good snap broken in half.
Place treats in a few airtight containers, freezing some for later.
Notes:
To make the dog bones with pepitas, roll out dough to 3/8 thickness, then sprinkle dough with seeds and roll to 1/4 inch and cut out shapes with a metal cookie cutter.
To make pumpkins, stick pepitas into the stem and make faces with a straw and wooden skewer.
Recipe via vintagekitty.com
2. Skull and crossbone frozen treats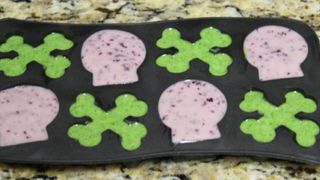 Ingredients:
1 cup plain non-fat yogurt
1-2 cups kale leaves
1/3 cup blueberries
Instructions:
Blend together 1/2 cup yogurt and blueberries.
Pour mixture into molds.
Blend together the remaining yogurt and kale.
Pour mixture into molds.
Freeze for 2 -3 hours.
Recipe via beaglesandbargains.com
3. Halloween pumpkin peanut butter dog treats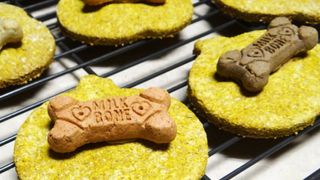 Ingredients:
2 cups whole wheat flour
1/2 cup canned pumpkin
1/4 cup peanut butter
2 eggs
1/2 teaspoon salt
Milk-Bone flavor treats
Instructions:
Preheat oven to 350 degrees Fahrenheit
In a large mixing bowl, combine flour, eggs, pumpkin, peanut butter and salt until fully incorporated.
Shape dough into a large ball shape.
Use a rolling pin to roll the dough into a 1/2-inch-thick roll.
Use a pumpkin-shaped cookie cutter to cut out pumpkin cookie shapes.
Gather the remaining dough and re-roll. Use a pumpkin-shaped cookie cutter to cut out cookies. Repeat until all dough is used up.
Bake cookie shapes in a preheated oven for 40 minutes.
Remove cookies from oven.
Cool cookies on a cookie rack until completely cool to touch.
Use a little peanut butter to adhere a Milk-Bone Flavor Treat to the top of the pumpkin cookie.
Recipe via ruralmom.com
4. Halloween spider dog treats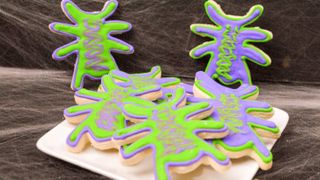 Ingredients for the base:
1 C flour plus a little bit to coat the cutting board
¼ tsp baking powder
¼ C almond butter
1 tbsp honey
¼ C milk
¼ C chicken stock
Ingredients for the icing:
1½ tsp meringue powder
½ C sugar
¾ C warm water
Instructions:
Preheat oven to 350 degrees
In a standing mixer or large bowl, combine all base ingredients, mixing until a dough forms.
Dust the cutting board with flour.
Roll out the dough to 1 inch thick
Using a spider cookie cutter or any Halloween cookie cutter, cut out the cookies and place onto a cookie sheet with parchment paper.
Bake for 10-12 minutes.
Beat the icing ingredients until they form a stiff peak
Split icing into two bowls and add purple food coloring to one and green food coloring to the bowls.
Add coloring icing to piping bags fitted with a #2 tip.
Outline a few spiders in the green icing and a few spiders in the purple
Fill in with the opposite colors.
Take the green icing and add two lines going down the middle of the cookies.
Using a toothpick, swirl the lines to make a swirl.
Let dry for 2 hours before giving it to your furry family members
Recipe via dogvills.com
5. Triple layer Day of the Dead dog treats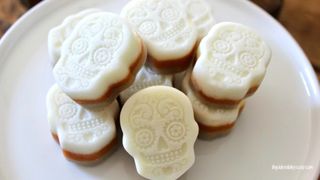 Ingredients:
½ cup plain greek yogurt
1tbsp coconut oil
½ cup pure pumpkin
¼ tsp cinnamon
1 mashed banana
1 tbsp honey
Instructions:
Combine 1/2 cup plain greek yogurt with a tablespoon of coconut oil and spoon into the mold and place in freezer for 30 minutes or until firm.
Stir in 1/2 cup canned pure pumpkin and 1/4 tsp. cinnamon and spoon on top of the frozen yogurt layer. Place back in freezer for another 30 minutes or until firm.
Blend one mashed banana with 1 tbl. honey and spoon on top of the pumpkin layer. Place back in freezer for 30 minutes or until firm.
Once all the layers are completely firm - time to pop them out.
Recipe via goldendailyscoop.com
6. Pumpkin and bone-shaped Halloween dog treats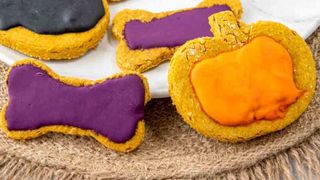 Ingredients for the treats:
5 cups oat flour
1 cup canned pumpkin puree
2 eggs
1/2 cup natural unsweetened creamy peanut butter
Ingredients for the icing:
1 plant-based food color variety pack
2 teaspoons activated charcoal powder if desired for black icing
1 teaspoon honey
2 to 3 tablespoons cornstarch, arrowroot powder, or tapioca starch
Instructions for the treats:
Preheat the oven to 350°F.
Place all ingredients in a large bowl.
Mix the ingredients together to form the dough.
Place the dough on parchment paper.
Roll out the dough until it is ½ inch thick.
Cut out shapes with a cookie cutter.
Place the cutouts on a greased or parchment paper-lined baking tray.
Gather the dough scraps, re-roll, and cut until there is none left.
Bake for 20 to 25 minutes.
Remove the treats from the oven and transfer them to a wire rack to cool.
Instructions for the icing:
Prepare your desired coloring liquids according to the package instructions.
To make black icing, combine 2 teaspoons of activated charcoal powder with 1 tablespoon of hot water.
Place honey, 2 teaspoons of coloring liquid, and 2 tablespoons of thickener (either cornstarch, arrowroot powder, OR tapioca starch) in a small bowl.
Stir until well combined and smooth. You may need to add another tablespoon of the thickener to the mixture to get the texture you need.
Use a spoon to drizzle the icing over the treats.
Recipe courtesy of spoiledhounds.com
7. Sweet potato Halloween dog treats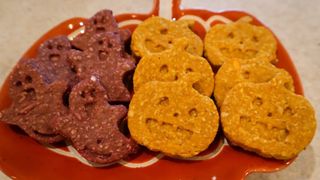 Ingredients:
1 1/4 cup of oat flour (Make your own by blending old fashioned oats in a food processor)
1/4 cup of unsweetened applesauce
2 tbsp of dog-friendly peanut butter (No Xylitol as it is toxic to dogs. Aim for single ingredient peanut butter)
3/4 cup of mashed purple or orange sweet potato
Instructions:
Preheat oven to 350 F
Peel, slice, and boil your orange OR purple sweet potato in water for 15 minutes. Mash with a fork and set aside.
Combine all ingredients in a bowl and thoroughly combine. Refrigerate the dough for 10-15 minutes if you're using cookie cutters. This will make it much easier to roll out and cut into shapes.
Roll out dough to 1/4 inch thickness and use your Halloween-themed cookie cutters to cut out shapes. Lay shapes on a parchment lined baking sheets. These do not spread while baking, so you can place them close together.
Bake for 22-25 minutes. Treats will be firm and slightly browned on the bottom. Allow to fully cool before serving.
Follow the recipe through again using your other purple or orange sweet potato if you're making two colors. Store in an airtight container in the fridge for 7-10 days.
Recipe via peaceloveandfrenchiefarts.com
Get the best advice, tips and top tech for your beloved Pets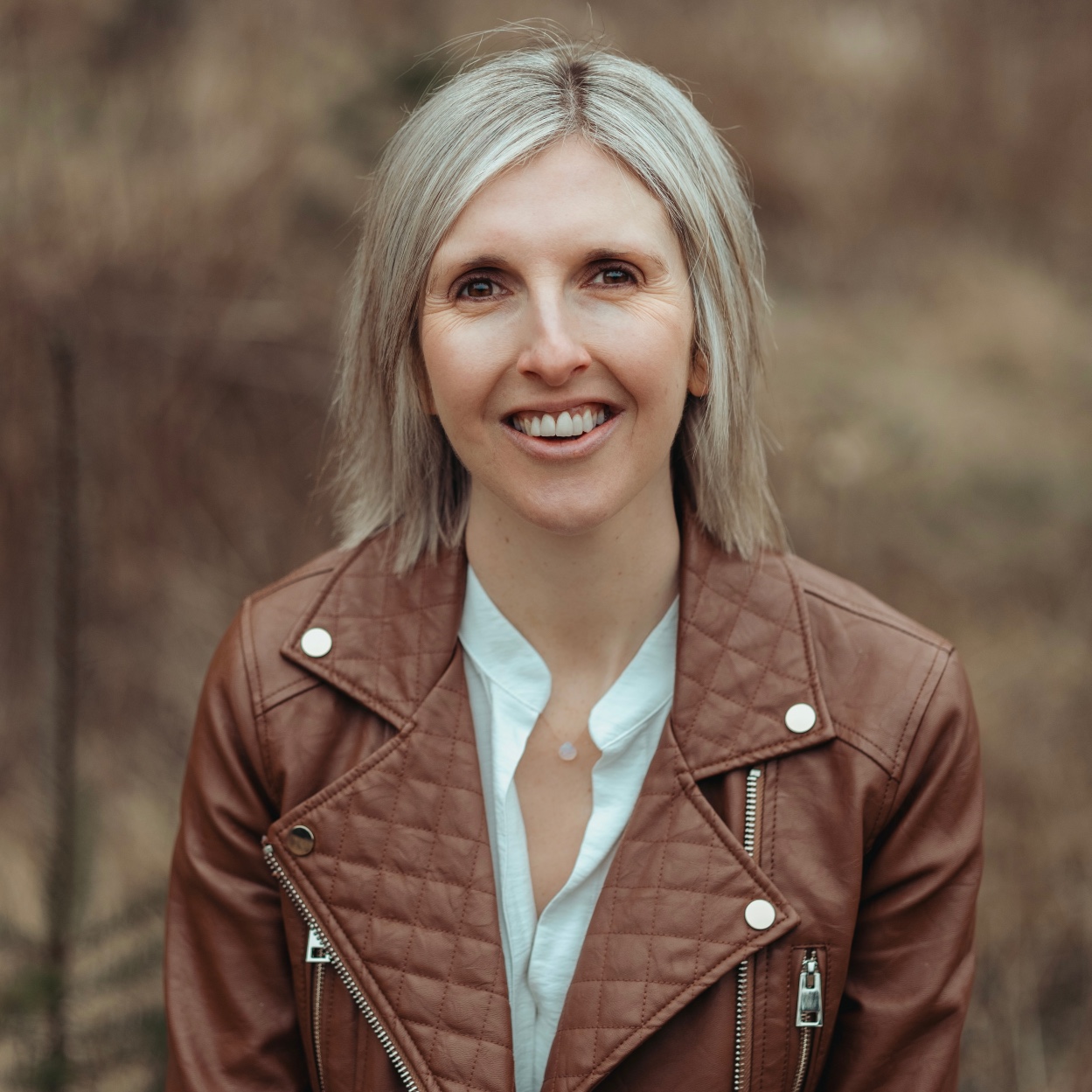 Kathryn is a freelance writer who has been a member of the PetsRadar family since it launched in 2020. Highly experienced in her field, she's driven by a desire to provide pet parents with accurate, timely, and informative content that enables them to provide their fur friends with everything they need to thrive. Kathryn works closely with vets and trainers to ensure all articles offer the most up-to-date information across a range of pet-related fields, from insights into health and behavior issues to tips on products and training. When she's not busy crafting the perfect sentence for her features, buying guides and news pieces, she can be found hanging out with her family (which includes one super sassy cat), drinking copious amounts of Jasmine tea and reading all the books.