Halloween advent calendars for pets are here to thrill your kitties and canines
Celebrate the spooky season with these ghoulishly wicked Halloween advent calendars for pets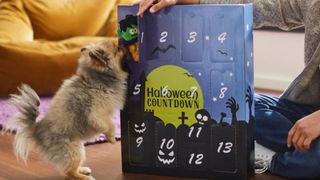 (Image credit: Chewy)
It's almost time to carve out the pumpkins and pick out your spookiest Halloween dog costume but, to help with the countdown, did you know that you can also buy Halloween advent calendars for pets?
This year, you can treat your dog and cat companions to their very own 13 Day Pet Toy Halloween Advent Calendar. Honestly, there are only treats here - no tricks!
Just like your traditional advent calendar, this special Halloween edition contains a spooky-themed toy behind each door for your pet to enjoy.
The dog Halloween advent calendar contains 13 toys, which are said to be most suitable for small to medium sized pooches. Standing two feet tall, this pet calendar contains full-sized toys such as squeaky ones, rope toys, and a few less-destructible rubber ones for those with the tendency to destroy everything they get their mouth's around.
Whereas, in the feline-friendly Halloween advent calendar, their 13 spooky toys include plastic balls, crinkle toys and plush toys. Some even contain a real treat - a little bit of catnip - so are guaranteed to send your kitty into a festive frenzy. However, these catnip-filled treats would be unsuitable for kitties younger than six to eight months of age.
With so many new toys to enjoy, your beloved pet might need an entirely new toy box to put them in!
However, as with any new toy, be sure to supervise your cat or dog when they're playing with their new favorite treat as - no matter how indestructible they may look - small parts may break off and become a choking hazard or lead to an internal blockage. As soon as you notice any damage to the toy, discard it immediately.
If you'd like to get your paws on one in time for your favorite holiday, you can pick them up over on the Chewy website for $24.98 each.
Get the best advice, tips and top tech for your beloved Pets
Chloe is a freelance writer, editor, and proofreader, who has more than ten years' experience in creating animal-focussed content. From National Geographic to Animal Planet, Chloe's passion for creating fact-filled features all about wildlife and the environment is evident. But it's not just wild animals that Chloe's fascinated by. Having written more than 75 articles for PetsRadar - and having her very own four-legged friend by her side - it's no wonder that her love of dogs (and, of course, cats) has grown exponentially.
Her website, www.chloemaywrites.com, and social media pages - @ChloeMayWrites on Instagram, Facebook, and Twitter - showcase her knowledge through daily facts and trivia tidbits. For example, did you know that snails have teeth?!