Giant moose attacks Alaskan dog sled team
Four dogs were injured in the terrifying attack that lasted almost an hour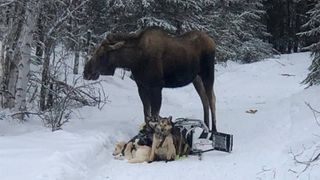 (Image credit: Facebook / @koahteam)
A giant moose spent almost an hour attacking and injuring a dog sled team in Alaska, despite being shot several times.
Experienced musher Bridgett Watkins was out on a 52-mile training run with her two teams of sled dogs and a colleague when the unthinkable happened. A huge bull moose tore out the forest and attacked the two vehicles, a snow machine and a sled. The enraged animal charged straight at Bridgett who emptied her gun into him with no effect before turning and running for her life.
As the two terrified humans crouched behind their snow machine they were forced to watch the enormous moose trampling the attached team. Bridgett managed to reach the six dogs and but them loose, but was unable to reach the team of 10 still attached to the sled a little way away. Held in place by their harness, the dogs were sitting ducks as the moose trampled them aggressively for almost an hour.
"I have never felt so helpless in my life. He would not leave us alone and he even stood over top of the team refusing to retreat," said Bridgett in her Facebook post about the incident. Finally, a friend was able to reach them and shoot the moose dead.
Four dogs, homebred by Bridgett at her champion Kennel on the Hill establishment, were badly injured in the attack. Flash had a major head injury and was left fighting for his life; Bronze had internal organ damage; Bill broke a leg and Jefe had soft tissue damage.
The incident prompted an outpouring of sympathy on social media, with followers commenting, 'Sending huge healing angels and tons of love and prayers for all your precious pups,' and 'Oh my gosh what a horrific experience. Prayers of healing for all!'
The thousands of good wishes obviously helped, as the following day Bridgett was able to post an update on the injured dogs.
"Flash is now awake, alert, eating and walking on his own. Bill is learning to hobble on 3 legs as his repaired injury heals. Bronze – she has been the most relaxed and able to rest well. She is eating and moving around surprisingly well. Jefe – what a big silly goofy boy. His injuries are not hardly [sic] detectable," she explained on Facebook.
She also thanked followers for all the messages of support and for funds that had flooded in to help care for the dogs. Just two days after the incident she posted an Instagram video showing her back out with a reduced team, saying she was 'looking ahead and refocusing'.
After her terrifying ordeal, Bridgett had the following advice for fellow mushers: carry a bigger gun!
Get the best advice, tips and top tech for your beloved Pets
Sara is a freelance journalist and copywriter of many years' experience with a lifelong love of animals. She's written for a range of magazines and websites on subjects varying from pet care to travel. A horse rider since the age of five, she's currently a full time pet slave to horse Blue and gorgeous, goofy English Springer Spaniel Olly. Adorable Olly has a huge sense of adventure and no sense of direction, keeping Sara on her toes.