Winter activities for dogs that will make the snowy season special
Five winter activities for dogs that you can both enjoy this upcoming season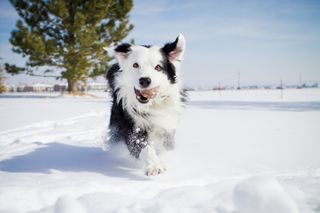 (Image credit: Getty Images)
Winter is near, and it's a great time of year to spend with your dog. Yup, there are plenty of winter activities for dogs that you can both enjoy that will help make the snowy season extra-special.
Cold weather doesn't mean your dog has to spend their days inside. As long as you dress them properly (dogs with shorter coats should wear some type of jacket, while others may need booties to protect their feet from the cold and ice), your dog can enjoy snowy activities alongside you. If you have a high-energy breed that requires a lot of exercise, this list may help you get through the cold season without any behavioral issues or health mishaps.
Here are some great ideas for winter activities for dogs.
Best dog coat: Trendy picks to keep your canine companion snug, safe and dry
1. Take a hike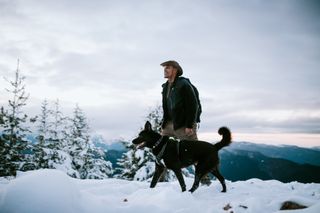 If you live somewhere where there are plenty of green spaces or hiking opportunities, taking a wintry hike is a great winter activity for your dog. Dogs love romping around in nature, and if they enjoy the snow they'll have an absolute blast while getting some energy out as well. Again, make sure both you and them are properly dressed for the hike, and that you keep your dog on-leash if they aren't trained to be off-leash.
2. Skijoring
If you've never heard of skijoring before, don't fret, as it's just a combination of two fairly well-known winter activities: cross-country skiing and dog sledding. Rover calls it the "best dog sport you've never heard of" and we'd have to agree. All you have to do is clip on your skis, put your dog's harness on, and let them drag you behind them as they run through the snow. This activity is obviously better for medium or large athletic dogs.
3. Have a snowball fight (kind of)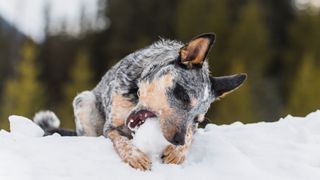 Dogs love playing fetch, and snowballs certainly resemble tennis balls. If you have a fenced-in yard or a dog park that's full of snow, take your dog outside and start tossing snowballs at them (gently). They'll likely love trying to catch the ball and be adorably confused when it dissolves upon impact – they may end up eating a fair bit of snow, but at least they'll be hydrated. Just make sure you don't pack the snowballs too hard so as not to hurt your pooch.
4. Practice nose work
If you have a dog breed that is known for its sense of smell (like hounds, Beagles, or German Shepherds), you may want to use the winter as an opportunity to work on their "nose work." Nose work is great because it provides mental and physical stimulation for dogs who love to sniff stuff out. Go outside in the snow and bury some extra-special treats a few inches down in it, then send your pup out to go searching for them. They'll have a blast shuffling through the snow, and get some good treats for their efforts!
5. Dig them a snow maze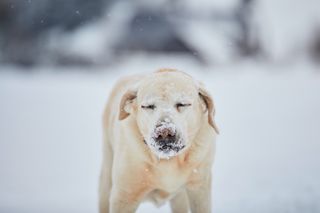 If you have a yard and get a heavy snow, chances are you'll have to dig a path for your dog to go out back and do their business. You can get creative with digging paths and make them a bit of a snow maze to run through, like this person on YouTube who made something like a race track for their small dog out in Long Island, New York. Watching your dog zip through the paths you've dug will make digging a lot more satisfying, believe us.
Think indoors, too
There are plenty of outdoor winter activities for dogs that you can enjoy this wintry season, but don't be afraid to do some creative things indoors, as well. Whether it's teaching your pup a new trick, building an indoor agility course, or just cuddling up and watching a movie, there are ways to enjoy the winter with your pup both inside and outside. Check out our guide to some great indoor games for dogs for more inspiration.
Get the best advice, tips and top tech for your beloved Pets
PetsRadar is a website dedicated to providing expert advice for happier pets. Whether you're a parent to a dog, cat, reptile, horse or rabbit, PetsRadar offers a pathway to healthier pets and happier owners through our unique combination of trusted advice, expert guides and in-depth reviews.