WATCH: Goldendoodle Gus rescues stranded otter pup
Despite treatment for cancer and having three legs, Gus swam into a freezing river to rescue an orphan baby otter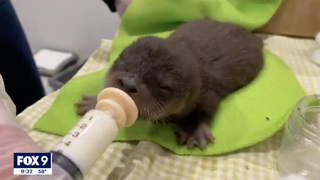 (Image credit: Fox9)
Gorgeous Goldendoodle Gus only has three legs but when he spotted an otter pup separated from its mother, he didn't let that stop him from springing into action.
The six-year-old plunged into the St Croix River in Minnesota, USA, before swimming 50 feet over to the tiny stranded mammal.
He then brought it on to the banks, holding the otter pup gently in his mouth – much to the astonishment of his pet mom, Cleo Young, who had been enjoying a family day out.
The family were initially baffled and concerned as they saw Gus dart past them, especially because it was a freezing cold day and they weren't sure if the dog could still swim any more.
His leg had been amputated in February after a groomer spotted a cancerous tumor on one of his bones. He is still receiving chemotherapy at the University of Minnesota Veterinary Hospital.
When Young and her family saw what Gus had brought, they wrapped up the otter pup. They then tried to locate the otter's mother for a while but couldn't so they took the mammal to the Wildlife Rehabilitation Center (WRC) of Minnesota in Roseville.
There, staff told them the pup was likely a week old and shouldn't have been in the water alone.
"He was so cute. His eyes were even open yet... you could just see his little fingernails and his little tail," Young's granddaughter Ella told Fox9.
Indeed, otters are born completely blind and they don't open their eyes until they are at least 30-days-old. Newborn otters cannot swim either and simply remain buoyant on the surface until they are several months old.
The otter pup has since been transferred to another rehabilitation center which has a specialist pool and Ella is certain Gus was a hero. "I think he knew the otter was hurting and something was wrong," she said.
Get the best advice, tips and top tech for your beloved Pets
David Crookes has been a journalist for more than 20 years and he has written for a host of magazines, newspapers, websites and books including World of Animals, BBC Earth, Dogs and Canines, Gadget and The Independent. Born in England, he lives in a household with two cats but he's also keenly interested in the differences between the huge number of dog breeds — in fact, you can read many of his breed guides here on PetsRadar. With a lifelong passion for technology, too, he's always on the lookout for useful devices that will allow people to spend more time with their pets.