Has your cat or dog watched Pet TV? It's a household hit for pets during the pandemic
Pet TV channels provide owners with a novel way to keep their furry friends occupied during lockdown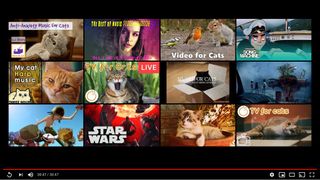 (Image credit: YouTube)
More and more pet owners are flocking to pet TV channels on YouTube to keep their pets occupied during the pandemic, reports Motherboard, Vice's tech channel.
For many pet owners, the pandemic has given them ample time with their furry children that has (in some cases) dramatically changed their pets' behavior. Cats that normally sleep all day while their owners are at work are zipping around the house looking for attention, stepping on keyboards, and fighting their owners for their chairs. Dogs are increasingly becoming more attached, and sometimes exhibiting symptoms of separation anxiety.
That's why it's likely not a coincidence that pet TV channels on YouTube are so popular, with channels like Relax My Dog (593,000 subscribers) and Relax My Cat (477,000 subscribers) churning out tons of videos earning thousands of views apiece. Most of these videos feature relaxing music, with the cat channel offering up live viewings of bird feeders to keep your feline friends transfixed on the screen.
"In 2019, l think twenty million cats and dogs around the world consumed content on Relax My Dog and Relax My Cat," says Amman Ahmed, creator of the company Music for Pets – which runs both YouTube channels and created a Games for Cats app. That number has only increased in 2020, with more pets stuck inside looking for ways to keep busy – but that's not the only reason why viewership is up – it's the humans too. "Our content is now becoming more designed for humans and pets to watch together," Ahmed explains. Ahmed ran a survey with Music For Pets asking if viewers were watching Relax My Dog with their pets, and 87% said yes.
Music for Pets even has a subscription service which offers ad-free videos for a monthly fee. So, if you're looking for ways to keep your furbaby happy and busy during quarantine (and help yourself stay productive while working from home), check out pet TV channels on YouTube. There are tons of them.
Get the best advice, tips and top tech for your beloved Pets