Meet Dúi, the adorable Hmong dog people are calling a cat-dog hybrid
Hmong dog Dúi has been capturing hearts all around the world with his funny antics and cute cat-dog appearance. We give you the rundown on this ancient breed.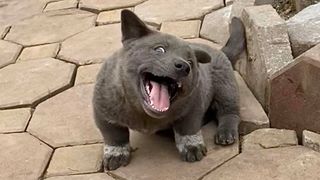 (Image credit: Reddit)
If you'd never heard of a Hmong dog until today, don't worry - neither had we! But if you've ever found yourself struggling to choose between feline furkids and canine companions then this cat-dog hybrid could well be the furbaby for you.
This unique breed of dog first started getting attention in 2020, after an adorable Hmong puppy named Dúi, won hearts with his super-sweet antics in his hometown of Hanoi in Vietnam.
Dúi's owners, Hai Anh and Tuan have been overwhelmed with how popular he's become since they first shared photos of him on Reddit last summer. "It's been only 5 days since we created Dúi's fan page and it now has more than 40K likes. The dog now has loads of fans both in Vietnam and around the world," Hai Anh explains.
The pair describe little Dúi as a happy-go-lucky dog who loves playing with people and other pups. "He is really sweet and funny," says Hai Anh. While a lot of Dúi fans have been reaching out to ask about the adorable pooch's personality, Hai Anh says the most common question they get asked is whether young Dúi has any feline genes in him.
"He is a mix of a native dog breed and a short-legged dog called Dingo," she explains. "But I think he might have a gene mutation too making him look like some sort of corgi mix. I bought him in a mountain province in Vietnam."
While there's no evidence to suggest this fun-loving furkid has any kitty in him, animal lovers who can't decide whether dogs or cats are number one in their hearts have been quick to weigh in, with one Reddit user saying: "It looks like the result of mixing a Corgi with a Maine Coon cat. Instant love."
What is a Hmong dog?
The Hmong dog is an ancient breed that first belonged to the Hmong tribe, an ethnic group living primarily in China and Southeast Asia, with the dog being particularly popular in the mountainous areas of Northern Vietnam.
Believed to have originated when a native dog was bred with a jungle wolf, the Hmong have served as hunting companions and are said to be the pride of the Hmong people.
Medium in size, the Hmong dog has a docked tail and has a naturally strong and muscular body with high levels of intelligence. Their squishy faces give them their cute appearance and they are known to have wonderfully loyal and friendly temperaments when properly socialized.
Because of their high levels of responsiveness to training, Hmong dogs are often used by the Vietnamese police as sniffing and detection dogs who patrol the country's borders.
The Hmong dog is an active breed that loves climbing and hunting in the woods and mountains. When well looked after, Hmong dogs can live for up to 20 years.
How rare are Hmong dogs?
At the moment, the Hmong dog remains one of the rarest dog breeds in the world. It's unlikely that you'll be able to find a Hmong dog outside of the Asian regions from where it hails, but if you do, owning a purebred will likely set you back upwards of $1,000.
Kathryn is a freelance writer with a passion for creating health and wellness, travel and wildlife content. Originally from New Zealand, her nomadic lifestyle has her currently fur baby-less. She scratches her pet parent itch by stealing frequent cuddles with any neighbourhood cat kind enough to indulge her.
Get the best advice, tips and top tech for your beloved Pets
Thank you for signing up to Petsradar. You will receive a verification email shortly.
There was a problem. Please refresh the page and try again.