How fostering dogs brought joy to this family from New York
One owner turned to fostering dogs, and never looked back. Find out which Hollywood star adopted one of her foster dogs…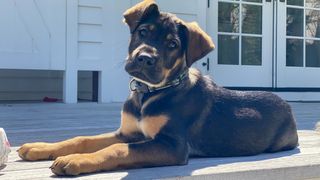 (Image credit: Heather Lefcourt)
When it comes to adopting dogs, different things work for different people. When Heather Lefcourt from New York bought Lulu, a silver French Bulldog from a breeder, the experience sadly wasn't a happy one for all concerned.
"I've never had a dog with so many issues, both behavioral and physical," recalls Heather. "She bit any man that came into the house, she bit the kids. She had tons of health issues – she broke her back and had to have spine surgery, which didn't work, and then at the beginning of the coronavirus outbreak, we realized she had a brain tumor. For six years it was very difficult for us."
After moving with her family to Long Island, Heather encountered a local shelter called Gimme Shelter. From there, she adopted a tiny dog named Otis, who came from a hoarding situation. "We did a genetic test of him, and he's about 13 different breeds – he couldn't be any more of a foster dog!"
Sadly, Otis and Lulu weren't able to bond for long. "Shortly after we got Otis, we had to put Lulu to sleep because she had blown out her back a second time. Something happened during the paralysis phase of it, and her tumor got really inflamed. We did the best we could for Lulu, but she had a terrible life, she had so many problems."
Fortunately, Otis thrived in the company of Heather and her three children. It was this positive experience with permanently providing a living space to a foster dog that gave her the idea of fostering dogs.
"We love Otis. He's fabulous, he looks like a junkyard dog, has the wildest hair, and is the gentlest, sweetest, best-behaved dog I've had in my life. We loved him so much that we decided to start fostering for the same animal shelter."
Uniquely, Gimme Shelter isn't a bricks-and-mortar shelter; it specializes in locating dogs ("They find them under porches, being given away at the road, in the back yard…) and temporarily placing them with foster families before moving them on to their forever homes.
"We've had seven different puppies: a tiny one-pound mix, lab mix, fuzzy-wuzzy doodle mix, one who looks like a German Shepherd who was so well-behaved he was hard to get rid of when they found an adopter!"
"The small ones get adopted very quickly – the shortest time we've had one was five days, and the longest was Rufus, who we had for two months."
While playing host to them, Heather and the children put a lot of effort into helping them settle – assisted by Otis.
"We crate-train, obedience and leash-train them. Some of them come with worms, mites and all sorts of stuff. We're getting puppies ready for their home, and everyone's taken it on as a project. We get them all healthy, scrubbed up, socialized with my children and Otis, who is the most fabulous foster brother. He literally teaches them how to walk up and down stairs, if they wander into the yard and I can't see them, he runs right to them!"
"He's gentle with the little ones and tells the older ones to behave. He's just really cool, he has figured out that this is what we do – we get these puppies and train them, and he just falls in line."
For now, Heather has a strict 'one dog at a time' policy: "You can't have three dogs on a leash; you need one to focus on all the training that it needs for its new home. Some of these dogs have always lived outside, and it's apparent when we get them that they haven't had any handling by humans. They're scared, they've never been in a house before. You put a leash on them, and they're like, "Ahhhhh!" It's been great to see these puppies transformed from being kind of sick, to be in such great shape."
Amazingly, Heather's dogs even attracted Hollywood attention. "The actress Julianne Moore actually adopted the black labrador we had – she had a black lab called Cherry, and we were fostering a black lab named Cherry. She just happened to be 20 minutes down the road, and came and saw Cherry and adopted her. She posts pictures of her on Instagram sometimes, her name's Hope now."
It's clear that fostering dogs has worked out well for Heather and her family – judging by the photos, the dogs have a great time, and are in the best possible hands, leaving Heather well-placed to offer some advice for those who are thinking about fostering a dog.
"When I go to pick up the dogs, there's usually someone there also doing it for the first time. I tell them, probably this dog is going to need a lot of socialization, touching, cuddling, playing with their ears. They're not used to it. It can make you feel like this is a bad choice, but if you go into it knowing they haven't been handled by humans, they'll get into it, they just need a moment.
"They come with all kinds of yucky things like worms and parasites, so they are not quite in their perfect form yet. It's super normal, but be aware that they have behavioral and sometimes health issues – you just have to deal with that. And that's part of the fun – it's going to be a little rough for a few days, but after that, it'll be smooth sailing."
Find out more about the work that Gimme Shelter Animal Rescue does at their website.
Get the best advice, tips and top tech for your beloved Pets
Steve writes and proofreads buying guides, news stories and advice for Pets Radar, drawing on his lifelong experience as a pet owner. Currently sharing his house with two cats and a dog, he draws on the many highs and occasional lows of pet ownership he has borne witness to in his writing. He has worked in publishing for 15 years as an editor, sub editor and writer on a range of titles, such as SciFiNow, How It Works, All About History, Real Crime and Horrorville. You can follow him on Twitter @stevewright22