How living with an anxiety disorder helped this dog owner transform her adopted pet's life
Laura Cucinotta was able to relate to her vulnerable, frightened rescue dog thanks to her own experience and expertise in dealing with anxiety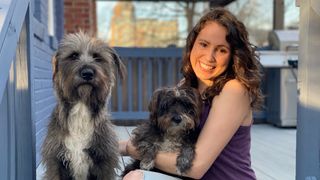 (Image credit: Laura Cucinotta)
Many dogs have a magical effect on people's mental health by easing loneliness, reducing anxiety, and helping those who live with depression.
But sometimes it's the dogs that need care and attention, particularly if they've suffered hardship at some stage in their life.
Evie is one such case – an adorable shih tzu mix who once lived with an animal hoarder along with dozens of other dogs.
Aged no more than three, she was forced to shelter outside in cramped crates and shacks. She may have even been chained.
The terrible experience left her withdrawn and so fearful that, after the dogs were rescued by Gimme Shelter Animal Rescue, she was the last to be adopted.
It was clear that, given her brittle mental state, Evie – who was called Coco at the time – would need a gentle approach, and she found her savior in Laura Cucinotta.
Laura felt a soul connection to Evie after she read about the young dog's story on Petfinder. "I knew I needed to be her person," she says.
Evie had spent six weeks living with a foster family, who helped her adjust to living inside with humans. But in Laura, Evie had the perfect match – someone very well positioned to help and nurture her.
"I have an anxiety disorder, and I advocate for mental health," Laura says. "Adopting a pet with anxiety is no different than getting to know a person with anxiety."
As an occupational therapist, Laura has been able to adapt the techniques she uses for humans to assist Evie.
"I think my job has helped me to be especially keen to her needs, and it's mostly about observing and adjusting," Laura continues.
But the job ahead of her was undoubtedly huge. Laura had another dog, Azula, and Evie was so withdrawn she didn't want to interact much with either of them.
Evie did, however, claim Azula's bed as her own, and Laura responded by ensuring it was the safest space in the house.
The cosy nightspot was in Laura's bedroom, so she placed it in a corner hidden by a dresser to give her more privacy.
"She would flinch at every move we made, so we'd turn our backs to her when we walked into the room, and we wouldn't make eye contact so that she wouldn't be scared."
Laura felt that accommodating Evie was the best approach.
"I'd have to give her extra space, extra time and safe space to retreat," she says. "This is so important for people and dogs, because it's about meeting them where they are and using tools to help them acclimate to their environment, or desensitize them from the things that are perceived as threatening."
For Evie, the threats seemed to come from human contact, so she would only eat and pass waste in private. She would shake in fear whenever she was taken down to the first floor of the house. She would also refuse treats and run away from the sound of toys.
Yet Laura, who had to keep Evie in the bedroom with the door closed if guests were at the house, nevertheless saw great potential for progress.
"Evie would show her true personality when we left her in our bedroom with the door closed," she says. "We'd watch on a dog camera as she rolled in the pillows."
By putting structure in her life, Evie also began to respond well. Laura would take her for walks three times-a-day on a consistent schedule. "She would walk right next to me, by my feet but eventually we let the leash drag as she walked and she instantly relaxed and looked happy," Laura continues.
Azula would accompany the pair on walks and Evie began to copy the other dogs' behavior.
"She'd sniff, roll in smelly things and jump through grass," Laura says. "Eventually she would chase and play with Azula and we got the point where we could take the leash off and she'd energetically run in circles."
Day after day, with care and attention, Evie's confidence soared.
She'd smile and wag her tail, desiring a walk and wanting to wear a harness.
Rather than cower, she ended up loving being groomed, and the trust between Laura and Evie grew enormously.
Medication was still needed, however, and her vet monitors her cortisol levels for signs of ongoing stress.
"Our vet put her on prozac, which is the same medication I take daily," Laura says. "This took the edge off for Evie, and she started to warm up even more, trusting me as I sat in the same room and eventually sleeping, eating, drinking, peeing, and pooping in front of me. She knew I had her back."
Laura doesn't pretend it has been easy. Quite the reverse: it has taken many, many weeks. But in the five months the pair have been together, Evie has transformed into a different dog.
"Every morning when I wake up and say good morning to her, she smiles, wiggles her body, wags her tail, and gets excited for the morning walk," Laura says. "She'll also decide to be in the room with me instead of in her bed. I can tell she trusts me, and I trust her.
Evie has truly blossomed, and there is no doubt that she will continue to do so. "It takes time and patience to build trust, but there's no better feeling than a rescue dog looking up at you with love in their eyes."
Get the best advice, tips and top tech for your beloved Pets
David Crookes has been a journalist for more than 20 years and he has written for a host of magazines, newspapers, websites and books including World of Animals, BBC Earth, Dogs and Canines, Gadget and The Independent. Born in England, he lives in a household with two cats but he's also keenly interested in the differences between the huge number of dog breeds — in fact, you can read many of his breed guides here on PetsRadar. With a lifelong passion for technology, too, he's always on the lookout for useful devices that will allow people to spend more time with their pets.