If your dog pulls on its leash, try this simple trick from a dog behaviorist
If you find dog walks challenging because your pup is constantly tugging on its leash, try this hack from a canine specialist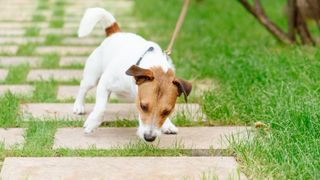 (Image credit: Getty)
A dog's walking pace in most cases is faster than ours. So don't be too disheartened if it feels like your dog is walking you rather than the other way around. However, this can be worked on to help you gently gain control.
If you want to master how to stop a dog from pulling on a leash, there is lots of useful information available online, but if you want to keep things as simple as possible, say hello to Will Atherton. Atherton is a dog behavior specialist with a generous bank of dog training tips to his name on the iamwillatherton TikTok channel.
Atherton elaborates on how constant tugging on the leash can have negative effects on a dog and its owner. Referencing a particularly challenging leash-tugging retriever that he works with, he noted, "[walking has] become a miserable experience for them. They're finding it very difficult to walk it so it's not getting as much exercise and the behavior starts slipping."
Working with this particular canine, he demonstrates in this video how to take your dog from bad pulling to 'beautiful heel walking' with one quick tip.
Watch Will Atherton Share his Dog Walking Tip to Prevent Pulling on the Leas
Atherton recommends starting with some basic directional changes. What exactly does this involve? Thankfully, it's as straight forward as it sounds. Using the dog's name, the trainer shows how calling their name while quickly changing the direction you are walking in triggers engagement between you and the canine. Once the dog is nearer to you, you can reward them or mark 'yes'. You will be able to show this has worked when your dog starts waiting for you to make your move.
Atherton then shows you the power of engagement that you can gain from using this gentle tip on your dogs. "I'm in charge of this walk, shoulders back, head up," Atherton states as he is barely holding the leash at all. He simply has it resting over one of his index fingers with no pulling from the dog and as a result no pulling on his end of the leash either.
"Now the reason this works so well and I didn't have to jump from extreme levels of correction is because of that engagement, because he became responsive through the conditioning work that we did during the directional changes drills," explained Atherton. He puts this training success down to a mixture of leadership, guidance, and direction.
Other tips to try out with a pully pooch are using a slight bowling technique with some of the best dog treats to get their attention and build a good level of engagement before you start the walk. You can gently throw a treat to the side making your dog look up at you after collecting it and then rewarding them by throwing another one. Or, you might like to try a new leash, we can explain how a no-pull dog harness works.
Get the best advice, tips and top tech for your beloved Pets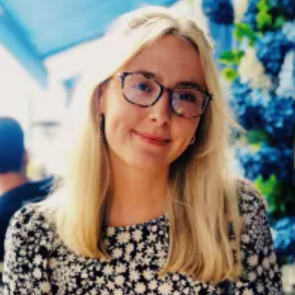 With over a year of writing for PetsRadar, Jessica is a seasoned pet writer. She joined the team after writing for the sister site, Fit&Well for a year. Growing up with a lively rescue lurcher kindled her love for animal behavior and care. Jessica holds a journalism degree from Cardiff University and has authored articles for renowned publications, including LiveScience, Runner's World, The Evening Express, and Tom's Guide. Throughout her career in journalism she has forged connections with experts in the field, like behaviorists, trainers, and vets. Through her writing, Jessica aims to empower pet owners with accurate information to enhance their furry companions' lives.