Is this the 'Apple Watch' for dogs?
Invoxia's new biometric health collar tracks your pet's health, steps and location just like an Apple Watch for dogs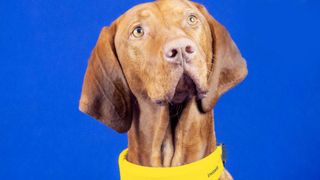 (Image credit: Invoxia)
Have you ever wished you could track your dog's every breath and movement just like your trusty smart watch? Well, now you can.
Smart collars and pet trackers aren't a new phenomenon, but so far they haven't offered the same level of technology as a Fitbit or Apple Watch. All that's about to change with the announcement of Invoxia's smart collar at CES 2022 as it promises to track all of your dog's vitals – and it's already won 2 CES Innovation Awards!
According to Invoxia, their Smart Dog Collar is "the first dog collar capable of continuous and non-invasive monitoring of both resting heart and respiratory rate, even through thick fur."
Monitor your beloved puppy's activity levels to ensure you are matching their needs – whether they need more rest, more activity or more food. Keep a close eye on how often they scratch or bark when you aren't about, check their respiratory and heart rate with medical accuracy and have peace of mind with GPS location tracking and escape alerts.
If your dog does manage to run wild, you can activate Lost Mode to boost the update frequency and accuracy of the collar's GPS and use the built-in hot/cold proximity radar and buzzer to track them down. Plus, with battery life lasting several weeks, it promises not to die when you need it most!
Invoxia explain that 10%-20% of dogs are either at risk or already suffer from difficult to diagnose heart conditions, and with their smart collar you can detect heart conditions and diseases early as well as getting a 320 degree overview of your canine's vitals. You can also track your pooch's sleep to ensure they are getting the best quality rest, as well as their eating habits - perfect for pups post-op, for a new puppy finding their feet or an elderly mutt trying to keep up.
Set to be launched Summer 2022 priced at $99, Invoxia currently estimates the monthly subscription will cost $12.99 per month. Sign up now to be the first to know when the collar is available, and score a bonus 10% off!
Get the best advice, tips and top tech for your beloved Pets