Joe Biden's dog bites for the 11th time — behaviorist reveals what's rattling Commander
Commander strikes again biting another Secret Service Agent. Animal behavior expert Caroline Wilkinson unravels why this is a recurring behavior with Biden's dogs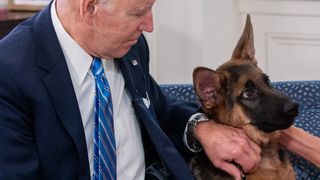 (Image credit: Getty Images)
Lessons in how to stop a puppy biting don't seem to be paying off for the President of the United States and his German Shepherd, Commander. The two-year-old Alsation took to biting a Secret Service Agent last Monday, making this the 11th recorded time someone has come under the attack of Commander. You know what they say about old habits die hard…
Being dog to a head of state sounds more than ideal, it's assumed you are probably on a pretty gourmet diet, have plenty of staff members and visitors sneaking you the best dog treats, plus, have people assigned especially to walking and playing with you while your president dad is busy running the country.
However, the ever busy environment of the White House might not be the best home for dogs. It's worth noting now that a previous dog of Biden's named Major, who was also a German Shepherd, was removed from the White House after a 'biting incident'.
Elizabeth Alexander, the communications director for first lady Jill Biden released a statement last week, "As we've noted before, the White House can be a stressful environment for family pets, and the first family continues to work on ways to help Commander handle the often unpredictable nature of the White House grounds."
The series of dog biting incidents in Biden's term in office has sparked curiosity about why this behavior is recurring. So we spoke to certified animal behaviorist, Caroline Wilkinson, to paw out some answers.
Caroline Wilkinson is a Certified Animal Behaviourist. She is a Full (assessed) Member of the APDT and INTODogs – as well as a Registered Training Instructor (ABTC). Caroline is also a Certified Real Dog Yoga Practitioner and an Applied Canine Zoopharmacognosist.
"Commander Biden joined the White House just days before Christmas - a time which even for the White House can be more chaotic than usual," says Wilkinson, "For a young puppy, careful socialization is always important. This means taking time over introducing new experiences and social relationships."
Wilkinson who is a qualified and practicing dog trainer as well as a behaviorist notes how Commander was thrown straight into a very busy, hectic environment. With anxiety in dogs being very common, there could be potential that Commander suffers from this and therefore, management of the environment is so important, ensuring you can create a calm, quiet space when needed. "This is something that would be very difficult to manage in a working home environment full of staff," she says.
See below a photo of Commander that Biden shared to his Instagram alongside the caption, "One of the perks of being president is that I get to set the office pet policy."
"It is likely that Commander felt a lot of overwhelm as a youngster," notes Wilkinson. "He potentially could have displayed fearful body language early on that was missed in all the chaos - and when this communication was overlooked, Commander has had to step up his way of saying he wasn't happy in a situation."
Meanwhile, the Washington Post previously reported that Major, who was the first shelter dog to live in the White House, is said to have suffered from some form of toxic exposure in his first home. Wilkinson highlights how an early illness brought on by toxic exposure could have impacted not only his opportunity to be properly socialized and exposed calmly to new experiences, but his gut health too which can play a huge part in behavior. The canine expert adds, "Dogs who have had limited socialization can be fearful of meeting new people, especially those wearing uniforms."
Perhaps you're left wondering if all German Shepherds are like this. Wilkinson cleared a few things up for us, "As a working breed, used for herding, guarding and assistance-roles, German Shepherds need to have a way to use their intelligence alongside physical exercise. While they have someone dedicated to walking them, the Bidens dogs may not be getting enough mental stimulation."
"The breed is also known to be cautious around new people - with a potential to also play a protective role around their family. While they are no doubt loving family members, the environment doesn't seem to be suited to them living a relaxed life there."
It's hard to pin down just one cause for aggression or reactivity in dogs and the behavioral consequences of these issues, such as biting. But, there is certainly something to say about the environment that a dog is exposed to and perhaps the White House isn't the best place for canines to live in despite its prestige.
Get the best advice, tips and top tech for your beloved Pets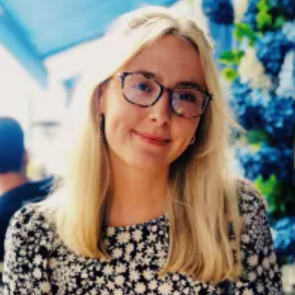 With over a year of writing for PetsRadar, Jessica is a seasoned pet writer. She joined the team after writing for the sister site, Fit&Well for a year. Growing up with a lively rescue lurcher kindled her love for animal behavior and care. Jessica holds a journalism degree from Cardiff University and has authored articles for renowned publications, including LiveScience, Runner's World, The Evening Express, and Tom's Guide. Throughout her career in journalism she has forged connections with experts in the field, like behaviorists, trainers, and vets. Through her writing, Jessica aims to empower pet owners with accurate information to enhance their furry companions' lives.