Keep your cat happy and healthy with these four simple tips from an expert trainer
All cats need plenty of stimulation and places to spend some alone time — here's how to make sure they get everything they need to thrive...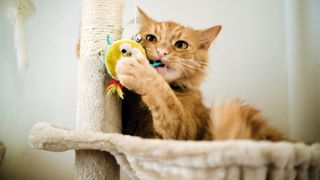 (Image credit: Getty Images)
Disclaimer
Unless specifically stated, any expert comments quoted in this news piece have been taken directly from the Instagram post cited below.
The debate over whether to keep cats inside or give them free rein outside is one that continues to rage on, and there's really no right or wrong answer here.
Ultimately, it's down to the cat parents themselves, and what they think is right. But, if you make the decision to keep your kitties indoors, you might worry that they won't be as happy as a cat who can come and go as they please, even if they have all of the best cat toys.
However, it's possible to keep your indoor cat happy and healthy, as certified cat behavior psychologist Saba Sayyed, who goes by the name A Cat Psychologist, explains in a recent Instagram video.
She explains in the video's caption, "These basic necessities are a must for an indoor cat if you don't want any negative cat behavior in the house, and want your cat babies to be happy and healthy."
So, what are they? Let's take a closer look.
If you want to know how to entertain indoor cats, a daily playing routine is important. "Get them running, jumping, and hunting!" says Sayyed. Make sure to take the time out each day to play with your cat – it doesn't have to be for ages, but a bit of physical and mental stimulation is sure to keep them happy!
It's also important to give your cat access to multiple levels across the house, so they're not just going along the ground. Your cat will enjoy being able to climb and jump, and it'll also give them somewhere to go when they want to be alone, particularly if you have young children or dogs who'd love to make friends!
Around the house, make sure you have lots of scent soakers and scratchers too. Scent soakers are soft items that are able to absorb and keep in your cat's natural scent. They might include beds, pillows, blankets, and even cat toys, and by releasing your cat's scent into their environment, they help them to feel secure.
You might ask the question, why do cats need a scratching post? In short, it releases energy, and it's good for their health – so it's perhaps even more important for your cat to have access to scratchers if they can't come and go outside as they please.
For some fantastic all-in-one activity centers that include scratching posts, check out this guide to the best Black Friday cat tower deals.
And, your cat should have access to the outside in some way. Perhaps you'll walk them on a leash, or you'll make them a catio so they can go outside but be safe and secured. Or, you could use a cat backpack to take them outside with you.
If you do decide that it's best for your kitties to be indoor cats, it's not difficult to keep them content. Just follow Sayyed's advice – and of course, take your cats to the vet if you ever have any concerns – and you might find that your cats aren't missing out at all.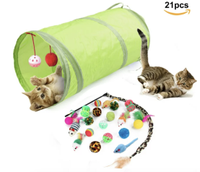 Semfri Cat Toy 21 Piece Set
Was $19.99, now $11.99 at Walmart
This collapsible cat tunnel comes with 21 other playthings to keep your kitty amused all day long, from balls and mice to a teaser wand and interactive feather toy.
Get the best advice, tips and top tech for your beloved Pets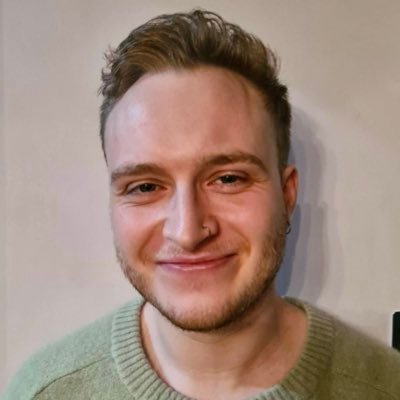 Adam is a freelance journalist covering lifestyle, health, culture, and pets, and he has five years' experience in journalism. He's also spent the last few years studying towards undergraduate and postgraduate degrees in journalism. While a cat person at heart, he's often visiting his parents' Golden Retriever, and when he's not writing about everything pets he's probably drinking coffee, visiting a cat cafe, or listening to live music.