Watch: Sweet Afghan Hound runs amok at Idaho dog show, and it's hilarious
Liam the Afghan Hound decided to steal the dog show in the best way possible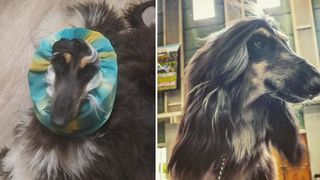 (Image credit: Instagram / @liamtheafghan)
A clip of a young Afghan Hound accidentally slipping his leash at an Idaho dog show has gone viral, leaving viewers in tears of laughter.
The class was progressing calmly during the Lewis-Clark Club hound group competition in Lewiston, Idaho on April 24 when suddenly complete pandemonium broke out. Gorgeous 13-month-old Afghan Hound Liam (affectionately known as Noodle) found himself free, and proceeded to take full advantage!
The footage of Liam's spree, captured by professional dog handler and trainer Christy Marley shows the adorable pup high-tailing it round the ring, ears flying and tongue lolling. Judges and owners can be heard laughing as Liam skips around gleefully, jumping in the air and thwarting any attempts to catch him.
Christy's voice can be heard on the clip saying: "Oh what a brat! He's so proud of himself too."
Posting on her Facebook page after the incident, Liam's owner Mallory Triplett-Schrattenholzer said: "Was this humiliating? Absolutely! Was I upset or mad? Nope! It was my fault, I accidentally hit the clip and it popped off his collar."
Unsurprisingly, the high-spirited hound didn't win that class but was subsequently placed in a different class for dogs shown by their owners who are not professional handlers.
The video, originally shared on TikTok, has been viewed over 1.8 million times where you can clearly see that Liam is having the time of his life, careering round and slipping on the smooth floor while the other pups look on enviously.
Triplett-Schrattenholzer later said on social media: "The outpouring of love for Liam is beyond amazing! I'm completely overjoyed that my sweet puppy has brought so many smiles to people all over the world."
"I think in this day and age, everyone deserves a moment of happiness and if Liam could provide that for someone, even just for a moment, then my moment of embarrassment was 100% worth it!"
Delighted fans posted comments including: "He was best in show and no-one will ever convince him otherwise", "Of course it's an Afghan Hound, they are beautiful floofy doofuses" and "He is such a happy pup! He definitely needs to get placement for best bounce."
For viewers who can't get enough of the loveable Liam, Triplett-Schrattenholzer has set him up with his own Instagram tag at #liamtheafghan. We salute you Liam, hope you continue to grasp life with all four paws!
Get the best advice, tips and top tech for your beloved Pets
Sara is a freelance journalist and copywriter of many years' experience with a lifelong love of animals. She's written for a range of magazines and websites on subjects varying from pet care to travel. A horse rider since the age of five, she's currently a full time pet slave to horse Blue and gorgeous, goofy English Springer Spaniel Olly. Adorable Olly has a huge sense of adventure and no sense of direction, keeping Sara on her toes.