Storm the Weather Dog steals the show during live forecast
Making yet another crowd-pleasing appearance, Storm the Weather Dog crashes his dad's weather report in search of treats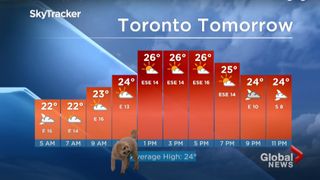 (Image credit: Global News/YouTube)
Global News Toronto's chief meteorologist Anthony Farnell was forced to share the limelight last Friday after his pup, affectionately nicknamed 'Storm the Weather Dog', decided to crash yet another one of his weather reports.
In a video that has since gone viral, Farnell can be seen delivering the forecast with an adorable bundle of fluff darting in and out of the shot while stopping to eat treats that had been dropped on the floor for him.
To his credit, Farnell remained unruffled. "Yes, Storm is in the building, getting some treats, walking on thin air," he says calmly before carrying on explaining to Torontonians that a warm and sunny weekend lay ahead of them.
Perhaps unexpectedly, viewers didn't seem at all annoyed about Storm's appearance, praising the dog for his good behavior.
"What a good boy. He doesn't really interrupt him, just watches his owner and checks out the scene," one person wrote. "What a cutie. And so well mannered! My dog would be whining and huffing and puffing for more treats," said another viewer.
It's not the first time Storm, a mini Goldendoodle, has stolen the show having first popped up during a live news broadcast back in 2012.
"I was working on my weather maps and I assumed Storm was under my desk," Farnell continued. "A couple minutes later I glanced up to the TV monitor in front of me and there was Storm, popping his head up from under the News Desk right beside the anchor during our live broadcast."
Storm the Weather Dog has become such a hit in recent years that he now has his own Facebook and Instagram pages where he can be found at, you guessed it, @stormtheweatherdog. He also regularly attends charity events and visits local schools, that is, when he's not busy helping his dad deliver the weather forecast!
Kathryn is a freelance writer with a passion for creating health and wellness, travel and wildlife content. Originally from New Zealand, her nomadic lifestyle has her currently fur baby-less. She scratches her pet parent itch by stealing frequent cuddles with any neighbourhood cat kind enough to indulge her.
Get the best advice, tips and top tech for your beloved Pets
Thank you for signing up to Petsradar. You will receive a verification email shortly.
There was a problem. Please refresh the page and try again.