Lifeline Pet Rescue of North Alabama: the shelter which offers ongoing support for life to vulnerable animals
Lifeline Pet Rescue believes it's important to offer quality training, not only to those who adopt their rescued dogs and cats but to the wider community as well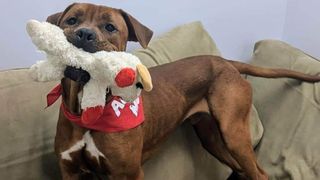 (Image credit: Lifeline Pet Rescue)
Tina Dean is the shelter manager of Lifeline Pet Rescue of North Alabama. She's also the carer and owner of 14 Pit Bull Terriers which, as you can imagine, means she's a very busy woman. "I suppose it feels like a 24/7 job but it's just a way of life for me," Tina reflects. "It's also very hard to turn off – certainly when there are so many animals out there which need our help."
Tina became the shelter manager in June 2020, having been involved with the centre for the best part of eight years. It's been a tough 12 months, not least because of the coronavirus pandemic. "It's meant people are wearing masks so haven't been able to properly interact with the dogs who find it harder to read our expressions," she explains.
"We also had a surge in the number of people interested in adopting a dog or cat and it was important that we didn't jump the gun. Just because someone wants a pet doesn't mean that it's the right time, so we had to get to the core of whether people wanted a dog because they were bored and whether they were aware of the commitment involved. There's always a lot of counseling involved."
Despite adapting to a new normal, Lifeline Pet Rescue has nevertheless rehoused more than 90 animals over the past 12 months and that's down to the hard work put in by the shelter's dedicated group of primary volunteers, who often go above and beyond in their duties.
Indeed, when two puppies were found abandoned in a shopping cart outside a dollar store, Tina was on hand to assist. "I'd come out of TJ Maxx and a young girl was screaming at the top of her lungs and was, like, 'excuse me, ma'am, can you help?'," Tina recalls.
"I ran over there and saw two teeny, tiny, little German Shepherd mix puppies wrapped in newspaper, soaking wet and really cold. Their eyes were barely opening. I took them home with me and fostered them through the first two rounds of their vaccines, bottle feeding them for the first couple of weeks and gradually moving them to puppy food. They ended up thriving."
In many ways, Tina is in a good position. "I have two tiny houses, my own house and five yards," she says, ensuring any dogs she takes in personally can feel at home. But her own personal issues cannot be ignored. Recently diagnosed with multiple sclerosis, she's finding it more difficult to keep going throughout the day. She routinely wakes at 4.30am each day to let out her 14 Pit Bulls and fix breakfast but now she needs a power nap between 6.30am and 8am. "The medicines make me really tired," she says.
Thankfully, the team is strong, with staff on hand at the shelter between 7am and 11pm daily. The shelter is also very well equipped, more so having moved to new, larger premises a couple of years ago. Its central feature is a massive, comfortable living room. "We use it as the dog's playroom where they can enjoy movie and sofa time with us, to get them out of their kennels," Tina explains. "The space also makes it easier for people to come in and look at our animals and we can do meets and greets with potential new owners."
Lifeline Pet Rescue tends to take on larger dog breeds. "We'll rescue anything but we do take many Pit Bulls, Shepherds and wooly breeds as well as Rottweilers," Tina says. "We also specialize in dogs who have behavioral problems because we have a behaviorist on board as well as two trainers who can work through any aggression. Oftentimes it comes down to fear or a lack of socialization."
Given the vulnerability of rescue animals, the shelter has strict procedures in place for anyone looking to adopt. Would-be owners begin by submitting an application, then Tina and her team try and find the right dog or cat to suit their household. In all, the process takes six to eight weeks. "This can seem long and drawn out but it seems to be working very well for us," Tina says.
Tina describes it as a "foster-to-adoption" process, saying it gives animals enough time to get through the initial shock of moving to a new family and allows a household to adapt. Tina and her team instinctively know if a dog is going to be a good fit before finalizing any adoptions but it's also important to ensure most eventualities are taken care of.
It's for this reason that support from Lifeline is ongoing. "We offer free training – for life," says Tina. "It doesn't matter if an issue arises five, six or seven years down the line – the adopter can come back to us and we'll work with that dog and get them through the problem."
Doing so helps ensure the wellbeing of any adopted animal but just as much work goes into preventing dogs and cats from being given up in the first place. The shelter's staff work in and around their base in Huntsville, Alabama, taking free training into the community. "This helps people who may be looking to surrender an animal to work through any issues. Oftentimes, they'll change their mind and keep their dogs and that's one less animal that comes over to us."
Unfortunately, it can be too late, as was the sad case of a beagle called Elvis. "He was a yard dog, around eight years old who had never got proper vet care or a good stable diet," Tina says. "His owner passed away and I got him in my possession, taking him straight to my vet where he tested positive for heartworm. He also had a grade six heart murmur which meant he wouldn't survive treatment.
"The day I found out he was terminal, the only thing we could do was love him and keep him on medicine to keep him comfortable. He came with me and I let him know what it was like to live indoors and sleep on the bed with me and my dogs. He passed away but had a really good few months with me. I knew I was setting myself up for heartbreak."
In an ideal world, Tina says there would be no need for her shelter. "That would be my true dream; that places like us wouldn't need to exist," she says. "But one problem here in Alabama is that the welfare laws are not up to par. They're not in an animal's best interest. Animals that have living, beating hearts are viewed as property and it makes our jobs very difficult especially when it comes to cruelty. I get angry. I get mad. Many nights, I cry myself to sleep.
"But at the end of the day, it's so rewarding to be able to nurse them back to health, to socialize them and find them new homes."
Get the best advice, tips and top tech for your beloved Pets
David Crookes has been a journalist for more than 20 years and he has written for a host of magazines, newspapers, websites and books including World of Animals, BBC Earth, Dogs and Canines, Gadget and The Independent. Born in England, he lives in a household with two cats but he's also keenly interested in the differences between the huge number of dog breeds — in fact, you can read many of his breed guides here on PetsRadar. With a lifelong passion for technology, too, he's always on the lookout for useful devices that will allow people to spend more time with their pets.