Lucky pup! Lost Cane Corso survives three week ordeal in the Texarkana elements
After a 22-day search for the lost Cane Corso, Norma Jean has been reunited with her owner thanks to locals' efforts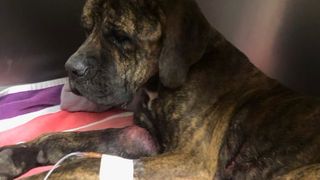 (Image credit: Texarkana Gazette)
Some much needed good news for 2022: After a three week manhunt, Texan native and lost Cane Corso, Norma Jean, has been found alive and a little worse for wear but is recovering well.
The dog's owner, Mark Clifford, picked up the Italian Mastiff from Must Love Corsos Rescue in West Memphis (Arkansas) on January 2nd, and was en route to his home in Keller, a suburb of Dallas, when he lost her. Upon making a stop at Exxon Paradise Quick Stop #13 and attempting to coax the hound out of his car for a rest break at around 9:30pm, she made a run for it.
"Though she had two leashes on, she scooted right past me. She is a big dog, and she is pretty fast," Clifford told the Texarkana Gazette.
"My biggest fear in that moment was that I did not want her to run onto Interstate 30 and she did run toward the ramp, and you know I was pretty darn concerned."
It was impossible for Clifford to find her in the dark that night, but the next day he contacted Greg King of Greg King Canine Recovery of Texarkana.
"I was looking for help and quickly got a hold of Greg King who is like the ultimate jack of trades in Texarkana," Clifford explained.
"There is probably not anyone who does more for animals in distress than he does. He was available to help me right away with cameras and he set up traps and we had a feeling that often an animal who has no familiarity with the area will be found near where they got away."
Multiple animal rescues got involved and they conducted a thorough search that continued for 22 days, utilising traditional and thermal drones and trapping devices.
"She was found a little over a mile from where she escaped from," said Clifford. "She was captured that close and that coincided with her profile. Her foster mom told me she is a homebody, and she will always circle back to what she believes is her home."
Norma Jean was finally discovered by 19-year-old Chesney Campbell on January 22 when she was bush hogging on her father's field.
"I honestly had no clue that she had been missing for more than 20 days and I saw her when I was coming around my first loop in the field," Campbell explained to Texarkana Gazette.
"I got out to check to see if she was alive and I called my stepmom. I'm a huge animal lover and it broke my heart to see her just lying there.
"I called my stepmom and she said there was pretty much nothing I could do and just let nature take its course. Then she ended up calling me back about five minutes later and I explained what she looked like, and she told me to stay right there, and she was calling somebody to get to where I was."
Campbell was awarded $500 for finding the dog.
It has been an emotional rollercoaster for Mark Clifford, with Norma Jean returning 43 pounds lighter and with an infection in her right front leg. This injury was caused by her leash and led to the canine having to undergo surgery at Dekalb Animal Hospital to have her right front leg amputated – but Clifford is glad to report she is doing well.
"I am wanting to get her home naturally but at the same time, not wanting to rush it," he explains. "She needs to be eating better before they can release her."
Clifford is eternally thankful for the miraculous return of his Corso and the effort made by the local people to bring his dog home: "There is just no way this dog would have been found without the support of the people out there."
If you'd like to make a donation to her rescue costs, medical and upcoming rehabilitation care, Must Love Corsos are running a fundraiser through their Facebook page.
Get the best advice, tips and top tech for your beloved Pets