Man who stole Lady Gaga's dogs back in custody after mistaken release
The man was mistakenly let go because of a "clerical error"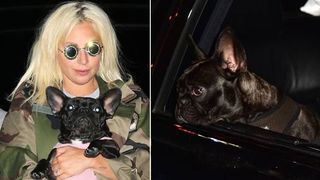 (Image credit: Getty Images)
Having their precious pooches stolen is every pet owner's nightmare, and celebrities are no different.
Not only did singer Lady Gaga have two of her beloved French Bulldogs stolen back in February 2021, but her long-term dog walker was shot in the attack.
The man accused of the outrage, James Howard Jackson, 19, was arrested and charged. Shockingly, though, on April 6 2022 he was mistakenly released due to a 'clerical error'.
The Los Angeles County Sheriff's department teamed up with other government agencies to find Jackson, and nearly four months later he has been re-arrested.
According to a statement from the Sheriff's office, "With the assistance of the Special Enforcement Bureau, investigators executed a search warrant on Apricot Drive in the city of Palmdale. Suspect Jackson was apprehended without incident."
The U.S. Marshalls Service announced back in July that they were offering a $5,000 reward for information leading to the recapture of Jackson, who was one of five people involved in the theft of the dogs.
The incident took place when Lady Gaga's dogwalker Ryan Fischer was walking her three Frenchies, Koji, Gustav and Miss Asia, in Hollywood.
He was attacked by a group of men who took two of the dogs and fled by car, after shooting Fischer in the chest when he tried to resist. The third dog, Miss Asia, escaped and was later returned by police.
The distraught singer offered a $500,000 reward for her missing pets. A few days later, 51-year-old Jennifer McBride walked into a police station with the two dogs, saying she'd found them tied to a pole.
She tried to claim the reward but was later arrested after police discovered she was in a relationship with the father of one of the gang members.
Jackson was the man accused of the actual shooting, which left Fischer with a collapsed lung. Fischer has since made a full recovery, with Lady Gaga's support. "I continue to love you Ryan Fischer, you risked your life to fight for our family," she wrote at the time. "You're forever a hero."
Fischer believes that the gang weren't aware the Frenchies had a celebrity owner but were targeted purely for their breed. French Bulldogs are very popular pets with demand outstripping supply, and owners are urged to keep their pets safe.
The star herself has yet to issue a statement about Jackson's rearrest, but we're sure she's happy the dognapper is off the streets and everyone's beloved pets are safer.
Get the best advice, tips and top tech for your beloved Pets
Sara is a freelance journalist and copywriter of many years' experience with a lifelong love of animals. She's written for a range of magazines and websites on subjects varying from pet care to travel. A horse rider since the age of five, she's currently a full time pet slave to horse Blue and gorgeous, goofy English Springer Spaniel Olly. Adorable Olly has a huge sense of adventure and no sense of direction, keeping Sara on her toes.