Neighbors feared Mastiff had eaten the postman - until they got up close
Neighbors were quick to judge Tatanka the Mastiff but he had the last laugh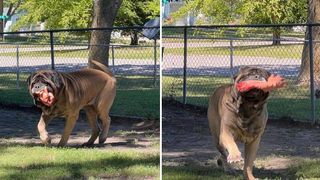 (Image credit: Facebook / Debra Ann)
If you're a fan of the mountainous Mastiff then you'll know they may be large, but really they're giant softies.
Even so, you'd be forgiven for being a tad intimidated if you're not familiar with the breed, which is possibly why neighbors were so quick to believe that this particular Mastiff had butchered an unfortunate postman and was casually chowing down on his severed arm.
This is the situation that faced Tatanka, an English Mastiff from Des Moines, Iowa, when he was seen wandering around his yard with a very realistic-looking limb in his mouth.
As it turns out, however, Tatanka is not a cold-blooded killer; he is only playing with his favorite toy!
As his owner, Debra Ann Ridge, explains: "He prances around with the arm in the yard, and the neighbors do give us quite the look until they realise it is a Halloween prop and not the real thing."
Yep, you read this correctly; it's just a humble Halloween prop. A very realistic-looking one, admittedly, but you can rest assured that no actual postmen were harmed in the making of it.
"I was preparing for Halloween and every year I bring out the 'infamous arm', my boy becomes so excited and grabs it and runs off with it."
"I bought the arm off eBay. It was about $7 and we've had about seven or eight over the years. He does this every year, and then I have to purchase another."
Despite initial shocked reactions from neighbors, it appears that many are choosing to see the funny side now, making all manner of comments whenever they see Tatanka playing.
"They make jokes like, 'I see he's been digging in the backyard again' or 'is that the mailman?'" says Debra.
So there you have it: Tatanka is not the vicious killer you might have previously thought. Postmen, feel free to continue your deliveries to his house!
Get the best advice, tips and top tech for your beloved Pets
Steve writes and proofreads buying guides, news stories and advice for Pets Radar, drawing on his lifelong experience as a pet owner. Currently sharing his house with two cats and a dog, he draws on the many highs and occasional lows of pet ownership he has borne witness to in his writing. He has worked in publishing for 15 years as an editor, sub editor and writer on a range of titles, such as SciFiNow, How It Works, All About History, Real Crime and Horrorville. You can follow him on Twitter @stevewright22