Meet Bane and Negra, the most loyal family guard dogs!
Bane is the 165lb guard dog from California, and his sister, Negra, is also learning the ropes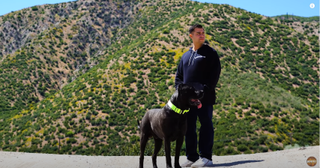 (Image credit: Beastly )
Bane is a Perro de Presa Canario, also known as the Canary Mastiff, and possibly one of the most loyal dogs you'll ever meet. This type of dog was originally bred for working livestock, but Elijah, who is a breeder of Perro de Presa Canarios, has trained him up in obedience and protection, to be the family guard dog.
Bane is certainly protective of his family, and there's nothing he loves more than guarding...except perhaps for lots of cuddles with the family.
Bane is three years old and weighs 165lbs, and is an impressive 28 inches in height! One of his favourite things to do is guard his family, come day or night, rain or shine, Bane will be there watching over his loving family.
Elijah said: "Bane is definitely the perfect family guardian. He is the result of over 15 years of breeding. We specifically were looking for traits that were family-friendly, but also extremely guardian. I literally couldn't think of anything more that I would want out of Bane, nothing."
Elijah also spends his time training their other Canary Mastiff, Negra, who is three months younger and weighs in at around 117lbs.
These breeds often divide opinions, Elijah says, with some being extremely scared of Bane and Negra, and others looking at them in total admiration, thinking they're absolutely beautiful.
While they may look intimidating to some, Elijah says they are the best family dogs he could ask for. While they have both been through intense obedience training with bite suits and sleeves, they still enjoy a cuddle on the sofa at the end of the day!
American Football Star Odel Beckham Jr and NBA star Lonnie Walker have both bought Canary Mastiffs from Elijah, who also love their protective yet cuddly nature.
Elijah would love to breed Bane with another suitable Canary Mastiff to produce more loyal guard dogs like him, but he says they must mentally and physically be the perfect match for him. Until then, Elijah and his family are simply enjoying their time with Bane as the ultimate family pet.
Get the best advice, tips and top tech for your beloved Pets
Sarah is a freelance writer and marketer, covering a variety of topics from lifestyle and fitness to sustainability and travel. When she's not writing for PetsRadar or other websites, she can be found looking after her pet chickens or relaxing with a cuppa and a cute doggo snoozing on her lap!