Meet Martha Stewart's beautiful new Bengal kittens!
Homestyle queen Martha Stewart introduces the world to her "adventuresome, very fast and devious" new cats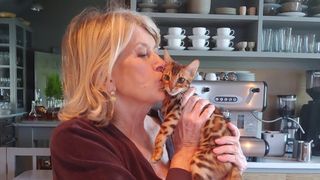 (Image credit: Instagram)
After tragically losing her beloved Princess Peony back in the spring, Martha Stewart has finally decided to expand her feline family, adding two beautiful Bengal kittens to her extensive "farm menagerie".
The eighty-one-year-old Home-making mogul introduced the world to her new stunning Bengal kittens via Instagram. Describing the one twelve week old kitty named Kipling as "curious and mischievous", she treated us to a whole gallery of pictures featuring the two cats lounging – or as Stewart says "acclimating" – in her laundry room, upon an immaculate pile of towels.
The animal-lover described the duo as "adventuresome, very fast, and devious". They will join her existing animals, who she refers to as the "farm menagerie, which Stewart once reported included "at least 20 cats, 25 dogs, 10 chinchillas, scores of canaries and parakeets, two ponies, three donkeys, 10 horses, many sheep and goats, hundreds of chickens, geese, turkeys, guinea fowl, quail, peacocks and homing pigeons."
Unfortunately, this year she has lost more than her fair share of her beloved pets. After her three-year-old calico persian cat, Princess Peony, was killed by her own dogs – unfortunately her canine troop mistook the poor kitty for an intruder – she also reported the death of six of her peacocks, attacked by coyotes. Posting to Instagram, she wrote: "RIP beautiful BlueBoy. The coyotes came in broad daylight and devoured him and five others including the magnificent White Boy. Any solutions for getting rid of six large and aggressive coyotes who have expensive tastes when it comes to poultry??"
Stewart has always considered herself a great lover of animals. The homestyle guru was once quoted as saying: "Raising animals is serious business, and I try very hard to be a good owner to each and every one. Some respond in friendly ways, some are more aloof, and others don't make a show of knowing me at all. But I think they all understand that I care about their needs and recognize their problems."
Just last week she displayed her devotion to her dogs, with forty homemade pots of dog food, showing that her flair for home-making and lifestyle doesn't end with humans! She packed "quinoa, broccoli, peas, carrots, sweet potato, butternut squash, cabbage, turnips, celeriac, beef, fish, chicken, duck. all nests and fish cooked with bones" into her delicious homemade hound stew, and claims her dogs can't get enough.
Get the best advice, tips and top tech for your beloved Pets