Meet Merlin, the world's grumpiest Ragdoll cat with the perfect sister
Get up close with Merlin the mad Ragdoll cat, one of social media's most recognizable stars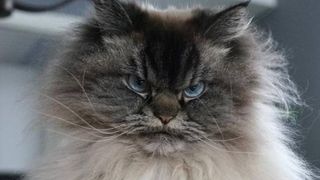 (Image credit: Instagram / @merlinragdoll)
With the tragic passing of Tadar Sauce, aka Grumpy Cat, there was room for a new feline to be crowned grumpiest of them all. Meet Merlin the Ragdoll cat who has charmed social media with his sour-puss expression.
The latest grouch-faced cat to rise to fame thanks to his permanent peevish grimace, just like the late, great, Grumpy Cat, he even has his own plush toy.
If you haven't had the honor of e-meeting him yet, let's get you formally introduced. Thanks to TikTok, the miserable moggy, whose bio reads "It's not me, it's you. Eternally disappointed 😾", has racked up a following of over 1.3 million - he's essentially a miserable cult leader.
Just look at that face, what's not to love? Everything, apparently – at least according to Merlin.
While Merlin might be in the limelight thanks to his unconventional looks, his sister Ivy is a stunning example of what a Ragdoll actually should look like: angelic and floofy.
Merlin wasn't always so grumpy, though. As a kitten he looked just like his sister: a divine cloud of purrfect fur. Quickly, however, he grew into a truly unique specimen.
It's not just thanks to his fixed frown that he's garnered such a fanbase, though. The Ragdoll has maintained his traditional fluffy coat and piercing blue eyes the breed is known for. He's beautiful in his own way, and he knows it!
If you too have fallen under Merlin's spell, you are in luck, for this feline celebrity can also be found making star appearances at cat conventions.
This fall, you can find this furious floof on tour, stopping off all over North America. Catch him in Toronto at the Canadian Pet Expo on September 17 & 18 and in California for CatCon in Pasadena on October 1 & 2, 2022.
Just don't expect a warm greeting!
Get the best advice, tips and top tech for your beloved Pets